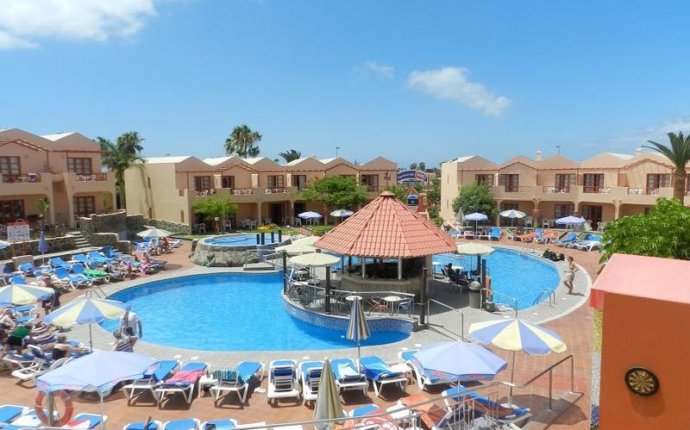 Turbo Club Apartment Gran Canaria
If you're looking for a quiet, but well-connected location, the Turbo Club gets top marks. The complex is situated in a peaceful area of Maspalomas, away from the hustle and bustle and not too far from the Sahara-style sand dunes. A daily shuttle bus runs regularly from outside the complex, connecting you to the sandy beach and sea, and the lively centre of Maspalomas with its shops, bars, restaurants and nightlife and the Faro II shopping centre can easily be reached by car or local taxi. Quiet and self-contained, this place is a popular spot with guests looking for a chance to chill-out. Accommodation is of a simple, but value-for-money standard, and there are some good amenities on-hand to make your holiday all the more enjoyable. An excellent swimming pool, simply-styled accommodation and a relaxed setting come together perfectly here, but with the bright lights of Maspalomas and Holiday World fun park close by, you don't need to go far for a change of pace!
Accommodation
• One bedroom apartment for up to 3 adults consists of • Twin bedroom • Lounge area with sofa bed • Shower and wc • Kitchenette • Kettle • 2 cooking rings • Fridge • Satellite TV (charge) • Safety deposit box (charge) • Balcony or terrace • Maid service 3 times a week • Superior rooms with TV and air-conditioning available at a supplement
Activities
• Pool table • Table tennis • Tennis • Jacuzzi • Minigolf
All Inclusive means
• Meals: Full board with buffet-style breakfast, lunch and dinner. Packed lunch available (prior to request, 1 day in advance). • Drinks: Locally produced selected alcoholic drinks including beer and wine and selected drinks including rum, whisky, and Sangria and non alcoholic drinks including mineral water, juices, tea and coffee available from the bar 10am-11.30pm. Locally produced wine, beer, soft drinks and juices served during meal times. Afternoon tea, coffee, cakes or biscuits available 3.30pm-4.30pm.
Entertainment
• Regular day and evening entertainment • Games and competitions
Facilities
• 2 swimming pools • FREE sunbeds and parasols • Internet and WiFi access • Minimarket • FREE daily shuttle bus to Maspalomas Beach 3 times a day
For Children
• Section of the main swimming pool • Playground • FREE cot
Key Facts
• Nearest beach: 3.5 kms • Sand dunes 3.5 kms • Main resort area: 1 km • 120 apartments • Child age: 2-12 years • Official rating: 2 key • Some facilities and activities may incur a local charge
Source: www.monarch.co.uk