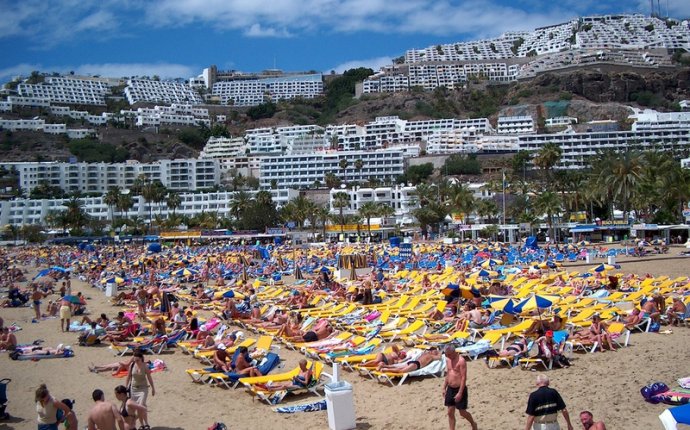 Gran Canaria Beach Resorts
The Canary Islands, an Atlantic Ocean archipelago, offers idyllic year-round weather and an array of picturesque landscapes to explore. White-sand beaches, mountains, forests and ravines grace the topography of popular Gran Canaria island. The Radisson Blu Resort, Gran Canaria, sits on the southern coast of the island, with convenient access to several exquisite beaches, from Playa de Guigui to the Playa de Patalavaca.
Unwind with Radisson Blu
The hotel has 189 rooms and suites, all of which provide ocean views and modern amenities such as flat screen LCD televisions, mini bars, and Free high-speed wireless Internet. The facilities include four swimming pools, a garden, tennis courts, gym and a spa. This family-friendly resort has a dedicated space for children to play under the watchful eye of our trained staff, leaving parents with time to enjoy a worry-free afternoon in the spa. If you're traveling for work, the hotel features a Business Center and 4 dedicated conference rooms that are perfect for meetings and special events.
Prime location
The resort is on the island's southern coast, nestled between two beaches. With this prime location, close to mountains and beaches, the Radisson Blu Resort, Gran Canaria is the place to take advantage of everything the island has to offer. The majority of the island's 60 beaches are concentrated in this area, or are a short car ride away. Inland, multiple nature reserves and mountain trails offer adventure as well as breathtaking views. Playa del Confital, inside a nature reserve, features a long boardwalk along its rocky shores.
Built through the mountains and along the coastline, the island's scenic highways allow you to easily access the hotel from Las Palmas Airport, either by taxi or public transportation. If you're driving, remember to take advantage of our on-site car parking. Or, contact the hotel in advance to arrange a private transfer.
Source: www.radissonblu.com