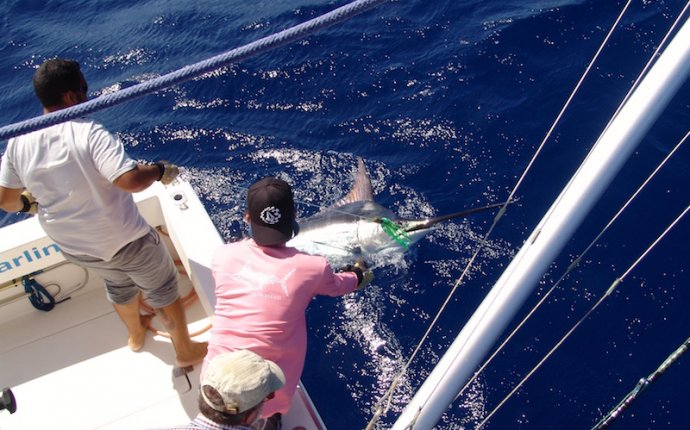 Marlin fishing Gran Canaria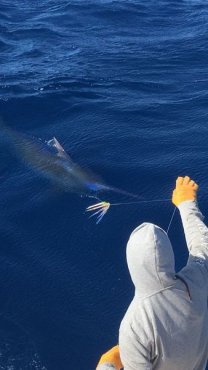 300 kg Blue Marlin
The boat Cavalier released today another Blue Marlin.
The fish has been caught by Alfred Appel.
Paul van den Hurk and Alfred caught also an Atlantic Bonito.
The Blue Marlin been estimated by the crew at 300 kg/650 lb.
Hans
Canaria Fishing News
300 lb Blue Marlin
I just wrote last night in our Latest News, that not every day can be a successful fishing day.
And see what happened today.
A beautiful release of a 300 lb Blue Marlin.
Mr. Alessio Rainoldi was this morning the luckiest angler on board of the Cavalier.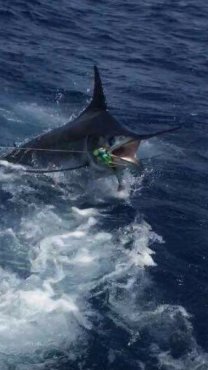 Well done angler and crew. Congratulations again.
Hans
Canaria Fishing News
Moderate catches during the last weeks
May and June were this year totally different then last year.
In 2016 there we caught lots of big Dorado, Wahoo, Albacore, White and Blue Marlin .etc. But where are all these species this year? The watertemperature is the same and the baitfish is also there.so why?
It's only the real fishermen who can understand this.
They understand that there are ups and downs which are inexplicable.
That's why they call it Fishing and not Catching.
The real fishermen keeps smiling, because they know that there are coming better times.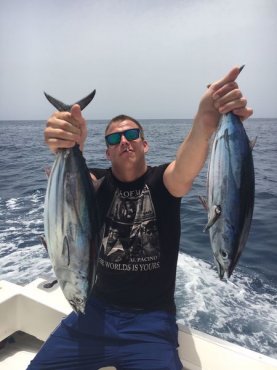 At the moment most boats are catching Skipjack Tuna.
Some of them a Blue or White Marlin.?
Hopefully tomorrow it's your day!
Your Welcome
Hans
Canaria Fishing News
Skipjack Tuna
Yesterday were most fishing boats successful.
There has been 3 Blue Marlin released and most of them caught Skip Jack Tuna.
On the photo some happy clients after a day fishing on the boat Cavalier
Hans
Canaria Fishing News
More information
2 Blue Marlin Released
Last week Tuesday was the last day that a Blue Marlin was caught on the Cavalier.
Unfortunately, the 6 fishing days that followed did not caught anymore.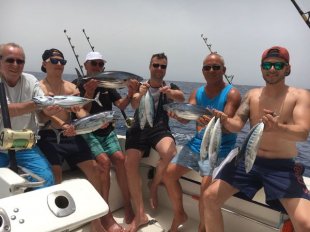 This morning the fishermen on the boat had a double strike Blue Marlin.
Woooooowwww what a thrill and excitement.
Boy van Loo, brother of the famous fisher Jos van Loo from Holland, was allowed to take a seat in the fighting chair.
The second Blue Marlin has been caught by Henk Lamboo who caught his fish 'stand-up'.
Without too much effort and with the help piand craftsmanship of the excellent crew of the Cavalier, were both Blue Marlin released in a very good condition.
Both fights took between 30 and 40 minutes.
Boy's fish has been estimated at 110 kg/240 lbs and Henk's fish on 140 kg/310 lbs.
Well done guys, and congratulations with these beautiful releases.
Hans
Canaria Fishing News
Blue Marlin 350 lbs
Bernard from Germany was this morning the lucky fisherman on board of the boat Cavalier.
He released a Blue Marlin with an estimated weight of 160 kilo / 350 lbs.
Congratulations Crew and Angler Bernard
Hans
Canaria Fishing News
More information
Blue Marlin 530 lbs
Our congratulations are going today...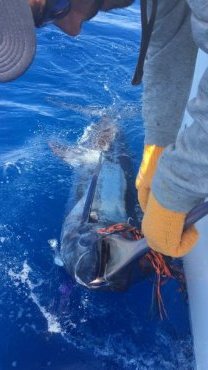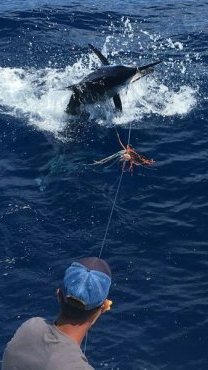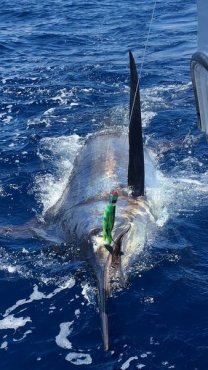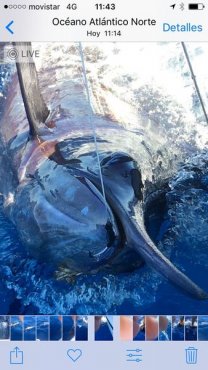 Source: www.bluemarlin3.com