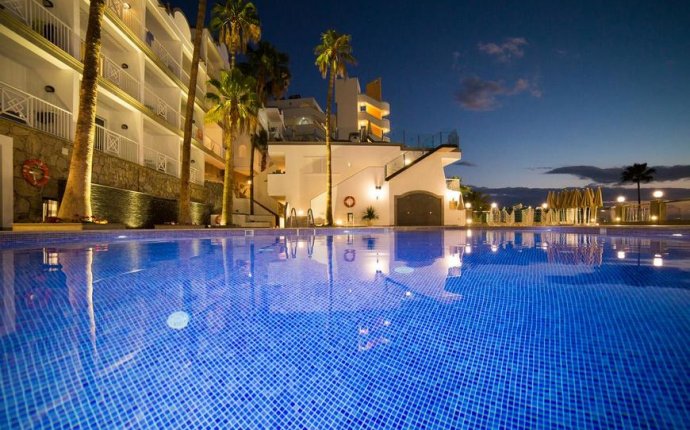 Apartment Hotels in Gran Canaria
Gran Canaria is the southern most of the Canary Islands and is home to one of the largest cities in Spain, Las Palmas. The southern side of the island is home to the largest and most popular holiday resorts of Puerto Rico and Playa del Ingles. The rocky interior gives way to beautiful curving bays and crystal clear waters.
The striking dunes of Maspalomas separate the two main resorts and provide an amazing sightseeing opportunity. The cosmopolitan capital of Las Palmas sits in the north-east corner of the island.
Mecca for windsurfers
Gran Canaria is the third largest island in the Canaries, only 130 miles off the coast of Africa. The island is split east to west by a lush mountainous interior. To the north east you will find Gran Canaria's capital, Las Palmas and the main holiday resorts lie in the south. Gran Canaria is a mecca for windsurfers with the warm winds from the east making for perfect conditions.
The sunny south
The south is home to the two main holiday resorts that bring tourists flocking in both the summer and winter. Puerto Rico and Play del Ingles are the most popular resorts with the imposing sand dunes of Maspalomas separating the two. This sandy southern tip is a stark contrast to the remote west coast.
Visit Aqualand
Visit Aqualand in Gran Canaria for splash thrills and more big water slides
Vegueta
Vegueta in Gran Canaria is a UNESCO World Heritage Site and is brimming with history and cultural heritage
Roque Nublo
This incredible free standing column of rock is at the heart of Gran Canaria and is a must see. You can park a short distance from Roque Nublo and walk up to it. The views from this peak are breath taking with a 360 degree panoramic view of the volcanic mountain tops and the Atlantic beyond. Pack a picnic, some spare clothes just in case and have a great day out.
International Jazz Festival – mid July
This three week festival is based around Las Palmas but there are events and performances spread across the island. The atmosphere is very laid back as you might expect but it is a great opportunity to see some world renowned jazz artists.
Source: www.alpharooms.com