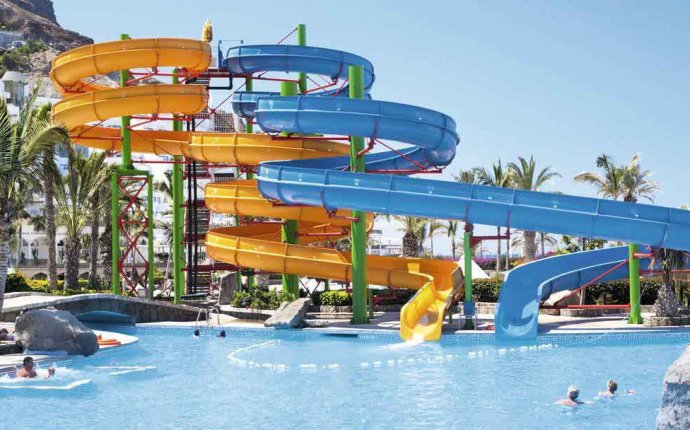 Playa Taurito Beach Gran Canaria
Playa Taurito - Tourist information & resort guide
Playa Taurito's Top Attractiom - The Water park
Location
2-3 km to the east of Puerto Mogan
9 kilometres to the west of Puerto Rico
Continuing to the south west beyond Puerto Rico you come to Playa del Ingles on the southern tip of the Island
Transfer time Airport - Playa Taurito
Approximate package holiday coach transfer time 1 hour 30 minutes
Description of Playa Taurito
Playa Taurito, located on the southwest coast, is an elegant, purpose-built resort with an air of refinement which will suit those looking for a tranquil break.
The hotels and accommodation are built on the steep sides of the narrow valley. If the valley bottom is the fabulous lido and park
Largo Taurito Lido
Its expansive lido area is particularly attractive and a mini aqua park - for a small entrance fee, you can enjoy sand-free sunbathing, a vast pool, and a palm-dotted 'island' complete with bridges and bars. The pool is sea water and because of evaporation & topping up from the sea the salt content is high.
Click Photo for larger Photo
Children's Mini Park
Water slide
Water dump
Swings & Climbs
Water Slides
Roller Coaster
Kamikaze
FreeFall
Multipistas
Space Bowl. A slide end into a giant funnel and you the go down the central hole into the lagoon
More Facilities
Buffet Restaurant. If required purchase an Entrance ticket with Buffet
Cafe
Hammochs & Sun Shade Umbrellas
Underground Car Park, entrance next to Lido Entrance
Krabi Spa, entrance opposie Lido Entrance next to
Taurito Scuba Diving
Ideal for SCUBA Diving enthusiasts because there are 3 Diving centres located very close to each other who cater for absolute beginners to experianced divers
Blue Explorers Dive Center
Canary Diving
Delphinus Diving
Playa Taurito Beach
Playa Taurito's real beach of black sand is sheltered from the wind by headlands; it's usually quite quiet, perfect for idling hours away with a good book. Alternatively, visit the man-made lake for a change of scenery.
Aquasport Water Sport Taurito Beach
Bus Stops near Playa Taurito: By the roundabout on the main road 0.75 km inland along the steep sided valley bottom
Source: www.just-gran-canaria.com