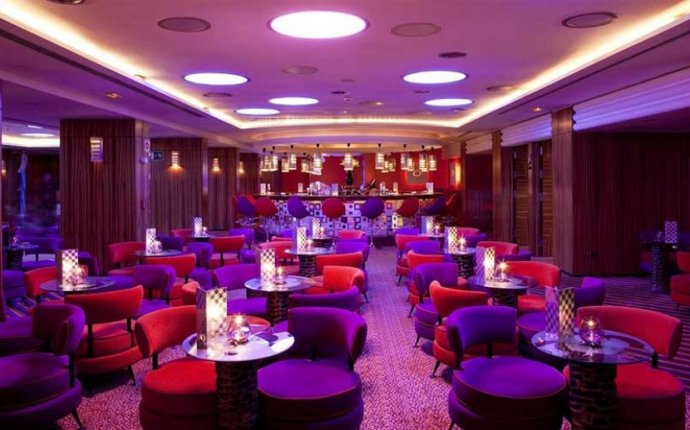 Seaside Palm Beach Maspalomas Gran Canaria
While many of the hotels built in Gran Canaria in the 1960s and 1970s could be considered an affliction on the landscape, the Seaside Palm Beach positively embraces its roots. Set on the edge of the breathtaking sand dunes of Maspalomas, the hotel was built in 1975 in the concrete-megastructure style shared by the island's big resorts. However, the hotel was re-designed in 2002 by French architect Alberto Pinto. Step inside and the paean to the Seventies is far more stylish than the daunting, parenthesis-shaped exterior indicates.
The style is successfully retro, so much so that the hotel is currently the only Design Hotels member in the Canary Islands. The marble and brass of the lobby seems grand at first, but beyond the check-in desk is a large, modern seating area filled with light from huge windows that overlook the pool and grounds behind. Here, guests can lounge on bright, candy-striped sofas where tables feature quirky sunken fruit bowls. It's a juxtaposition that works.
Outside, a large veranda wraps around the middle of the hotel, and stairs sweep down to the main swimming pool, poolside bar and restaurant. Beyond are manicured lawns, surrounded by a centuries-old palm grove. Tucked into a far corner of the gardens is the plush wellness spa, offering all manner of treatments. Even if you don't splash out on one (a Relaxing Massage costs €75), you can still enjoy the Thalassotherapy pools, sauna and steam rooms, and outdoor gym. There is also a discreet nudist area and sauna.
While the design looks to the Seventies for inspiration, thankfully the catering doesn't. Banish thoughts of tired buffets: breakfast service includes cooked-to-order omelettes, continental platters and more, all of which keeps even the fussiest of eaters full (my party included a vegan, a pescetarian and a fad dieter).
Evening meals are served in the main dining room, which spills out to a terrace, and alternates between a themed gourmet buffet, such as Asian or Italian, and a four-course à la carte meal. The buffets hit the right note, but the à la carte menu less so. While tasty and exquisitely presented, the choices – such as steamed cod or tortellini – were limited. However, the delicious pastries and deserts, which are baked on site, compensated.
A more intimate experience is offered at the Trattoria and Orangerie restaurants, serving Italian and haute cuisine respectively for a supplement to the half-board offering.
The only point where the hotel's retro image falls down is at the Salon Bar. Although decorated in a plush red Seventies theme, the entertainment was stuck in a time warp. One to avoid unless you like line dancing and magic tricks.
Source: www.independent.co.uk