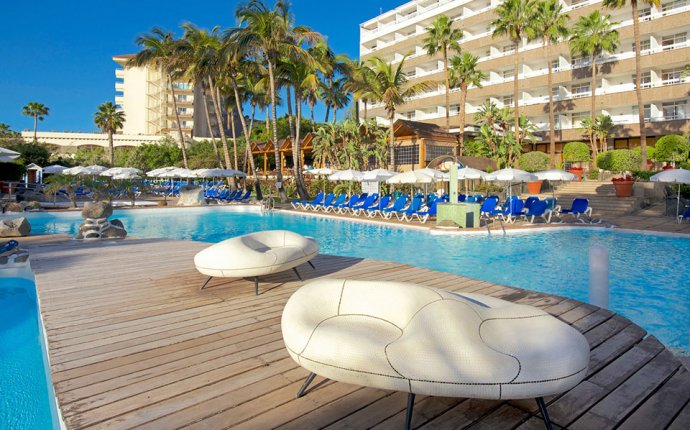 Bull Hotels Gran Canaria
8 / 10
One of the closest resorts to the airport on Gran Canaria, you can reach the Hotel Costa Canaria in under 20 minutes after picking up your hire car. Alternatively, take one of Global's buses and get off at the Hospiten Roca stop which is directly opposite the hotel. The back entrance leads to a promenade which connects the resort to Playa del Inglés to the south. There's a 670-metre stretch of milk-chocolate sand which makes up Playa de San Agustín in front of the hotel.
Style & character
7 / 10
Don't let the old-school Presbyterian exterior of Hotel Costa Canaria deter you, for the Bull Hotels group have transformed the interior since purchasing this four-star establishment from fellow chain, Iberostar, for €21, 5 million (£16.3 million) in March 2014. A warm modernisation has taken place since – soft furnishings and curved edges – with a dominant floral theme.
Service & facilities
10 / 10
Deputy manager Jorge Arana explained that, because of the repeat business of loyal clients, Bull Hotels retained the services of the old Iberostar staff. It was not difficult to see why. Those working in the bars and restaurants, in particular, were warm and chatty without being overly personal. The subterranean nightclub of yore has been turned into a sumptuous spa (10am-6pm) with sauna, treatments such as a 50-minute firming Japanese Muri Shinai facial priced €65 (£50), Turkish bath, water beds and heated pools.
At reception, you're handed a card with your surname, arrival date, and departure time. You can then hang it on any free sunlounger to reserve it for the duration of your stay, thereby preventing any towel duels at dawn. There's a solarium on the roof which includes a nudist zone, an indoor gym (7am-11pm), beach volleyball, boules, and tennis courts. Monk parrots fly above your head in the impeccably maintained gardens, escapees from a fire at the nearby wildlife park Palmitos Park in 2007. Daily papers include British tabloids although there's a online press reader if you want more selection. There's free Wi-Fi throughout the whole of the hotel.
Bar
Beach
Fitness centre
Laundry
Parking
Pool
Restaurant
Room service
Spa
Steam room/hammam
Tennis court
Wi-Fi
Rooms
My top-floor room, one of 223 double rooms, afforded views over the beach below and it was warm enough, despite being January, to sit outside on the balcony. Where once the carpet in the corridors continued into the room, the flooring has now been replaced with cocoa-brown titles. TVs come equipped with 74 channels, 18 of them English-language – they now include the likes of Sky Movies after guests requested more variety than just news. The garden is home to 31 bungalows with thatched roofs, the closest thing to a suite on offer. The best ones are on the beachfront and come with leather sofabeds, walk-in-showers and hot tubs.
We offer a price guarantee on every hotel booking
Your passport to a better trip
Food & drink
Staying on an all-inclusive basis, I ate a buffet dinner (6pm-9pm) at the main restaurant. It was Mexican night and the guacamole was prepared with local avocados and the famously sweet red onion from the north west of the island's Gáldar. Desserts were served in shot glasses and included Canarian/Spanish classics such as natilla (custard) and mus de gofio (toasted cornflower mousse).
Returning there for breakfast (awash with cold cuts of meat placed next to sardines, herring and quark), I feasted on a vegetarian omelette (filled with cheese, mushroom and onion) pepped up with a liberal spread of El Sabor de Casa's Pasta de Aji Amarillo. This spicy yellow pepper paste is considered a cornerstone of Peruvian cuisine. Thoughtfully, there was also a diabetic corner with sugar-free jams.
For lunch, I opted for the modest á-la-carte selection at the pool bar, available from 12pm until the closing time of 6pm. I ordered a vegetarian pitta from the snacks section, which arrived stuffed with egg, lettuce, mayonnaise, tomato and onion, which would cost non-all-inclusive eaters €6 (£4.60). I partnered this with a caña (near half-pint) of local Tropical lager at €2, 25 (£1.75) before finishing with a refreshing lemon sorbet at €4 (£3).
Source: www.telegraph.co.uk