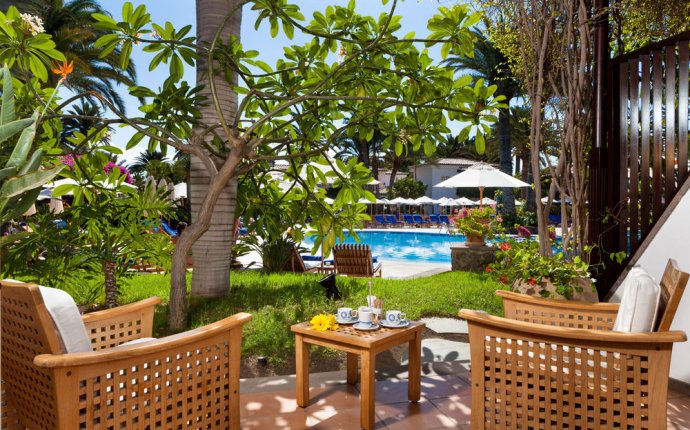 Grand Hotel Residencia Grand Canaria Reviews
9 / 10
The hotel is located on the outskirts of Maspalomas. Built on an ancient palm grove, it lies adjacent to the area's Charca, a lagoon attracting migratory birds travelling from Europe to Africa. Despite feeling somewhat isolated from Maspalomas, the hotel is a mere five minutes' walk from the beach. Gran Canaria's airport is 30 minutes by car. The bus station is a two-minute walk, with good links to Puerto de Mogán, the aeropuerto, and capital Las Palmas de Gran Canaria.
Style & character
Nothing's higher than two storeys - a look patented by artist and architect César Manrique, in an attempt to preserve the traditional feel of neighbouring Lanzarote. A restaurant with terrace sits atop the orchid-adorned reception, lounge and library. The two-storey whitewashed villas are draped in vivid bougainvillea which lends some contrast to a scene that's otherwise predominantly green, given the number of palm trees. Inside, designer Alberto Pinto has plumped for a colonial style. Although Alberto grew up in Casablanca, he has infused the property with touches more in keeping with his Argentinian heritage and these include the use of teak throughout and a classy fountain in reception reminiscent of a bygone age.
Service & facilities
One could be forgiven for thinking that there are more staff than guests at the Seaside Grand Hotel Residencia. General manager Robert Heitzig, whose office door is (literally) always open is conspicuous by his presence at meal times.
Bar
Fitness centre
Laundry
Parking
Pool
Restaurant
Sauna
Spa
Steam room/hammam
Wi-Fi
Rooms
7 / 10
Opt for an upper-floor villa or suite for vistas of dunes below and mountainous terrain above. We stayed in room 135, one of the 41 category-B double rooms, and being on the ground floor there wasn't much of a view, apart from of the impeccably-manicured 400sqm of gardens. The comfy bed, like the majority of the furniture in the room, appeared to have been fashioned from boughs of the mightiest oaks. Bathrooms include a see-through bath with massage jets accompanied by flashing lights.
We offer a price guarantee on every hotel booking
Your passport to a better trip
Food & drink
A set or á la carte dinner is served from 6:30pm to 10:00pm (except Wednesday and Sunday when there's a barbecue buffet). Ordinarily, the restaurant offers international cuisine peppered with a few Canarian dishes such as papas arrugadas con mojo (salted new potatoes served with piquant sauce). The barbecues tend to be themed affairs, however, and we enjoyed Moroccan gastronomy during our Sunday-night stay. The snack and pool bar is home to a Mediterranean kitchen which specialises in tapas. There's also a piano bar with a wide range of cocktails. Breakfast is of the buffet variety, with omelettes and waffles made to order. There's plenty to top the bread of many cereals including cheeses from both near and far (the Canary Islands are noted for their goats' cheese) and condiments such as cactus jam.
Value for money
8 / 10
Double rooms from €348 (£252), half board; rising to €566 (£410) in high (winter) season. There's free Wi-Fi and if you prefer a desktop, there are two free-to-use monitors in the library.
Source: www.telegraph.co.uk