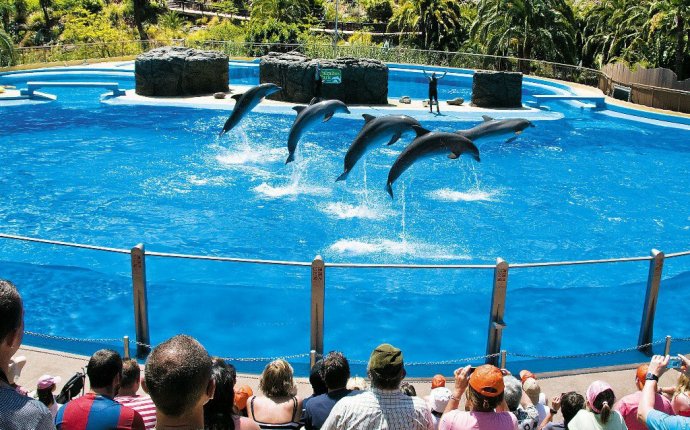 Palmitos Park Gran Canaria Swim with Dolphins

Swims with dolphins and learns about this beutifull animals
The dolphinarium installations have a surface area of approximately 3000m 2 and contain 3 swimming pools and more than 4million litres of water. The grandstand is capable of holding 1500 people who will enjoy a privileged view of the completely natural surroundings.At the moment, the dolphinarium is home to 6 dolphins of the species, Tursiops truncatus or Bottlenosed dolphin, although it is capable of housing up to 9 dolphins.
It's the first dolphinarium built by the Aspro Group and reflects the knowledge and experience acquired over the last 20 years:
A perfect fit in the natural setting of Palmitos Park.
A dolphinarium respecting both the spirit of the park and the Aspro Group values.
Perfect combination of entertainment with an educational approach characteristic of the Aspro Leisure Group dolphinariums.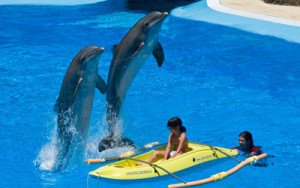 Palmitos Park dolpinarium responds to the values of the park and of the Aspro Group. In particular, it is a commitment to quality and an already attractive tourist reference within Gran Canaria. The philosophy of the dolphinarium can be summarised in 4 concepts:
Leisure
Information
Investigation
Education
The objective is to entertain, to provide awareness about the need to protect the richness of our surroundings and to transmit this message through the different educational programs to the Canarian Society, especially with schools, and to advance research concerning these mammals.
Utilizamos cookies propias y de terceros para mejorar los productos o servicios ofrecidos en nuestra página web mediante el seguimiento y el análisis de sus hábitos de navegación. Si continúa navegando, entendemos que usted acepta su instalación y su uso. Puede cambiar la configuración de su navegador o, en su caso, obtener más información en nuestra Política de cookies |
Source: www.palmitospark.es