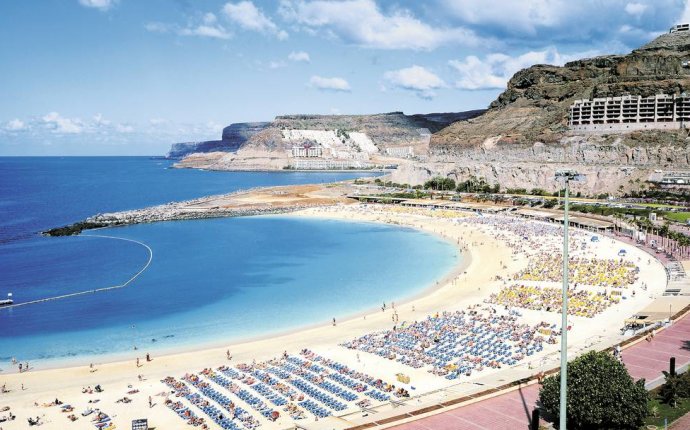 Resorts in Gran Canaria Guide
Gran Canaria is certainly one of the last remaining European paradise isles located in the Atlantic Ocean, 130 miles from the African coast. It's the third largest of the Canary Islands and has Fuerteventura and Tenerife as its neighbours. Las Palmas, located in the northeast part of the island, is its capital.
Gran Canaria is an island of contrasts. As the most dynamic capital city in the Canaries, it has a great mix of people and keeps local traditions alive, but always catering for the holidaymaker. Crammed with culture, incredibly beautiful coastlines and spectacular beaches with a sunny climate, Gran Canaria is a great destination all year round. So whenever you want to escape for a break, the delights of Canary Islands are waiting for you! And it's all just a mouse-click away... virtually!
From the cooler north to the sunnier south, this perfect holiday island has everything the most discerning traveller could wish for: the great diversity of climate, lush forests, exotic flora and fauna, volcanic craters, the odd flurry of snow on the highest peaks – all this has led to this island being dubbed "The Miniature Continent". Where else can you find acres of sand dunes against a backdrop of verdant mountains within easy reach of some of the best hotels, apartments, resorts, clubs, bars and cafés in Europe?
The beautiful island of Gran Canaria has a lot to offer the tourist and a wealth of places to visit. From the north to the south, east to west, it's all here for you to discover. Whether you are with your loved one, in a group of friends or on a family holiday, you are sure to find what you're looking for to make your holiday experience memorable and exciting, not to mention relaxing.
The south is the most popular part of the island, containing such delights as Puerto Mogán (a picturesque village also known as Little Venice), Puerto Rico, Maspalomas, Meloneras, San Agustín and the famous Playa del Inglés. But with such spectacular views and landscapes, make sure you don't miss the rugged north and west coasts, as well as the island's interior.
Meloneras really has the Wow factor. The whole area has been renovated with such style and sophistication, that it became a very classy place. You can walk along the promenade, shop until you drop in high-end designer stores like Lacoste and Ralph Lauren before sampling cuisine from a whole host of restaurants, including Italian, traditional Spanish tapas, sushi and seafood.
Dip a toe in the warm waters at Playa del Inglés and top up your tan on the beach there. It's full of great places to eat and drink, giving you a perfect place to rest and recharge your batteries. By night, Playa del Inglés really comes alive. If you like music and dancing, this is the place to go!
Picturesque Puerto de Mogán is a very popular destination and it's easy to understand why – with its canal-like channels and quaint bridges, it is also known as Little Venice.
And of course the vibrant capital, Las Palmas is crammed with culture and history. This is a truly cosmopolitan city located on the northeastern part of the island with so much to do and see – museums, art collections, fantastic architecture, beautiful parks, great shops, cafés and also the famous Las Canteras Beach, perfect for a cooling dip or as a spot of sunbathing.
Enjoying warm weather all year round, our island offers you a wealth of choices. Not only will you find the exact locations of hotels, great offers and unbeatable prices on this website, you will also find all the information you need to plan and book your holiday in Gran Canaria – an in-depth guide to the most interesting places to see, the most popular beaches, car hire, hotels and resorts, weather, getting around and all those essential travel tips that are usually so hard to find.
ESSENTIAL INFORMATION
You'll find all the information you need to plan and prepare for your holiday as well as plenty of related material.
PLACES TO SEE
We show you all the best places to visit. Whatever your taste, you'll find something that interests you!
WEATHER AND CLIMATE
Check out the current weather, temperature forecasts, satellite images and the annual averages.
Whatever you are looking for in your holiday, Spain Gran Canaria has the answers.
Do you want to stay at the best hotels the island has to offer? Of course you do…
spain-grancanaria.com gives you the best – the best holiday experience, the best locations, the best prices and the best hotels. We have specially chosen a selection of 4 and 5-star luxury hotels, including apartments, villas, resorts and hostels all over the island. So depending on where you would like to stay, we can guarantee you quality accommodation with the promise that you will not be disappointed. All of our hotels have been carefully selected and cater for all types of holidaymakers, from courting couples to families or lone travellers to large groups of friends. We also have a range of car rentals if you fancy getting behind the wheel and touring the island in the sunshine.
This fascinating island has something for everyone. Whatever your taste or age, you will find the perfect location to spend your precious time and a huge variety of things to do to transform your trip into the holiday of a lifetime.
Source: www.spain-grancanaria.com