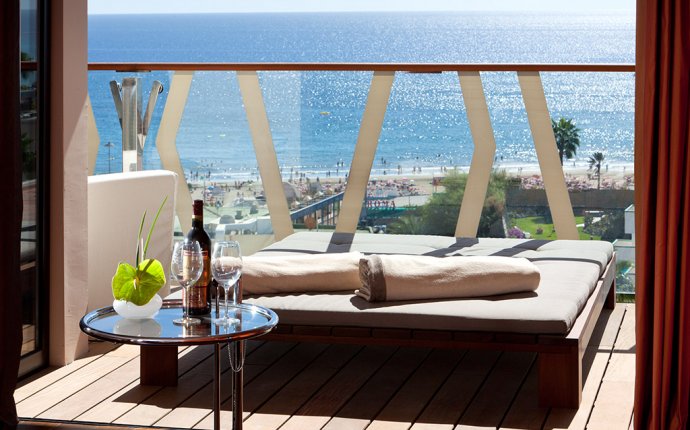 Bohemia Suites & Spa Gran Canaria
8 / 10
There are few genuine beachfront hotels in Playa del Inglés. While Bohemia Suites & Spa offers floored-jaw views of the neighbouring dunes of Maspalomas, it's a five-minute walk down to the beach itself. To reach the hotel from the airport, it's a 25-minute southerly drive along the GC-1.
Style & character
9 / 10
Bohemia Suites & Spa has undergone some transformation since starting life as the rather drab Hotel Apolo in 1971, despite renovation 30 years later. After closing in 2009, this four-star establishment was reborn as Playa del Inglés' first five-star boutique hotel. With Seaside Palm Beach, it's one of only two Design Hotels on the island.
Service & facilities
Staff are knowledgeable about what to see and do in the area and beyond. There's also a complimentary tablet, for the exclusive use of those staying in one of the hotel's suites. This can be taken off the premises, to help you get the most out of your stay on the island. The first-floor Siam Spa opens daily from 10am to 8pm. Here, having already selected from a menu of traditional Thai massages, you'll breathe in a pervading fragrance of lemongrass and ginger, although the "relaxing back, neck and shoulders signature message" - 45 minutes for €59 (£45) - we received originates from Indonesia's Bali. A deep treatment that makes your muscles pop. In the basement, there's a sauna and steam room, along with a small gym. Outside, there's a morning and afternoon pool, named after what time they're warmed from the sun above.
Bar
Fitness centre
Laundry
Parking
Pool
Restaurant
Room service
Sauna
Spa
Steam room/hammam
Wi-Fi
Rooms
7 / 10
There's a tri-colour scheme to the Bohemia Suites & Spa's 38 rooms. Our 106 belonged to the red category. It was a little on the twee side, so you might want to consider one of the roomier 29 suites. Not at all po-faced on the design front, we loved the balcony and its chairs, which lit up at night, its gnomes, and the adjustable sunscreen. The Apple Macs can be used as both a computer and a television. Toiletries are by Anne Semonin.
We offer a price guarantee on every hotel booking
Your passport to a better trip
Food & drink
10 / 10
The 360° restaurant's considered one of the best hotel eateries on the island, with a kitchen run by the Catalan classicist-cum-creative, Xavier Franquet. Many guests enjoy an aperitif at the adjoining Atelier cocktail bar. We ate the five-course tasting menu priced at €69 (£53), a bite-sized summary of the à la carte selection. Each dish was paired with its own wine, including a mead-like Sauternes, and was well thought through. The vintages partnering my vegetarian alternatives differed from my wife's omnivorous originals, including a seafood-free version of her cold carrot and orange soup with honey, cumin, roasted lobster, algae, and coconut-milk ice-cream, setting you back €38 (£29).
Source: www.telegraph.co.uk