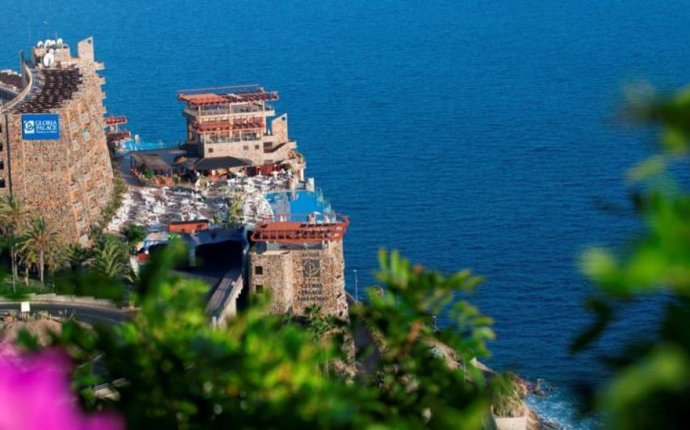 Grand Palace Amadores Gran Canaria
7 / 10
Gloria Palace Amadores sits marginally closer to Puerto Rico than Amadores itself. It'll take you just over 30 minutes by hire car and three quarters of an hour by bus to reach the hotel from the island's airport.
Style & character
8 / 10
Where once Gran Canaria hotels were built to stand out, they're now constructed to fit in. Local stone almost makes Gloria Palace Amadores feel a natural extension of the cliff face it occupies. Almost.
Service & facilities
9 / 10
There was the minimum of waiting time between arriving at the hotel and checking in. The process felt less like a chore than at other establishments, as the reception staff were so welcoming. The main facilities are water-based ones with two outdoor swimming pools and an indoor thalassotherapy centre with 28 individual treatment cabins to alleviate anxiety and combat rheumatic conditions.
Bar
Fitness centre
Kids' club
Laundry
Parking
Pool
Restaurant
Room service
Sauna
Spa
Steam room/hammam
Tennis court
Wi-Fi
Rooms
There are 364 bedrooms, in which the traditional Canarian colour scheme of blue and yellow dominates, although there's a keep-things-simple philosophy operating on the design front with the tiled floors, grounding the odd flourish of gold, purple, and silver. The exclusive Thalasso Experience Sea View includes hammocks so you can really appreciate the ocean view at your leisure.
We offer a price guarantee on every hotel booking
Your passport to a better trip
Food & drink
The main restaurant offers buffet dining with international fare, with options such as ratatouille and freshly-prepared pizza. Al fresco dining on the terrace is available.
There are also four bars to choose from, such as the Snack Bar where I ordered an excellent Gin Fizz (drinking this felt like necking a packet of Refreshers laced with juniper berries) whilst a Bloody Mary kicked like the proverbial mule.
Breakfast includes both cereals and cooked food, with the peculiarly Canarian additions of brussel sprouts (although bubble and squeak would be more palatable).
Value for money
Double rooms typically start at €87 (£78) per night, increasing to €212 (£190) per couple for a night in a suite.
Source: www.telegraph.co.uk