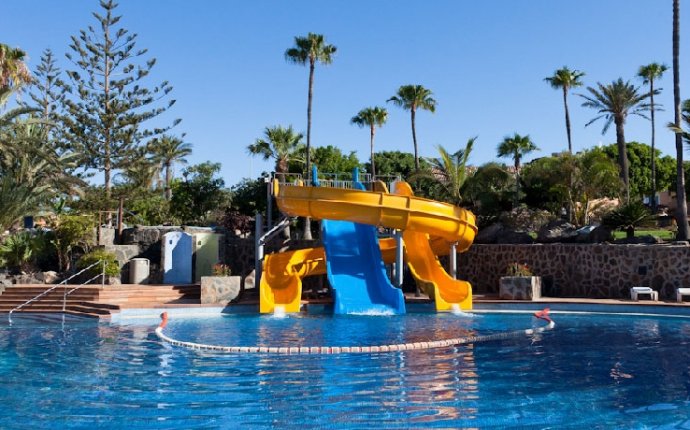 IFA Interclub Atlantic Gran Canaria
7 / 10
It's a steep 10-minute, 800-metre climb on foot from San Agustín's main bus stop outside Hospiten Roca up to the IFA Interclub Atlantic perched above San Agustín beach. From the airport, it's a more leisurely 20-minute drive to the hotel.
Style & character
The 40, 000 square metres of subtropical gardens remind you that you're closer to the African than European mainland. Steps lead up to a striking semi-circular lobby that is all glass and silver - and then out to the apartment-style accommodation.
Service & facilities
8 / 10
The 24-hour reception staff were attentive, booking me an early breakfast and advising me where I could watch the Champions' League football nearby. On site, there's a boutique, minimarket, hairdresser, massage therapist, and fish pedicure. Sunbeds overlook pools with waterslides. There are three tennis courts (both astroturf and quartz sand), two shuffleboard fields, and a volleyball court.
Bar
Kids' club
Parking
Pool
Restaurant
Tennis court
Wi-Fi
Rooms
The Tara and Tirma blocks house the 149 standard double rooms measuring around 24 square metres with balconies and terraces. I, however, stayed in one of the 225 larger family doubles, complete with living room. Decoration was of the IFA brand, low on frills with a cooling terracotta floor throughout and floral bedspreads and prints on the walls. In addition, there are a further 21 standard and superior bungalows.
We offer a price guarantee on every hotel booking
Your passport to a better trip
Food & drink
The buffet El Jardín restaurant offers breakfast from 8am to 10.30am, lunch from 1pm to 3pm, and dinner from 6pm to 7pm in winter and 6.30pm to 9.30pm in summer. The dinner featured showy cooking; an Asian chef preparing stir fries with the option to spice up with a fiery sauce. The chilli could be washed down with Amstel on tap or a selection of draught Félix Solís wines. More local offerings came in the form of rancho canario, a hearty Canarian stew. Drinks are available from 10.30am until 11pm at the self-service El Palmeral bar during the day and from the staffed El Teatro bar at night. You have to pay extra for espressos and liqueurs at the Disco Pub Bora Bora. Visit El Cuarto for snacks.
Access for guests with disabilities?
Yes. There are five family double rooms that have been adapted, plus lifts and ramps to make getting around in a wheelchair easier.
Source: www.telegraph.co.uk