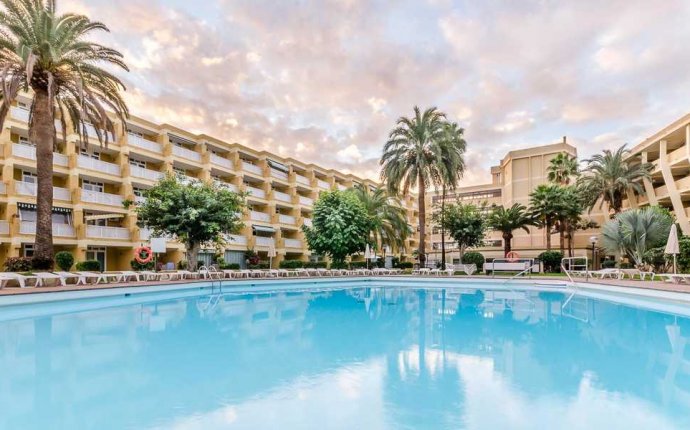 Jardin del Atlantico Gran Canaria/
Overview
The Jardin del Atlantico complex of apartments are centrally located in Playa del Ingles just a short distance from Playa del Ingles beach. It is 2.2km from the golf course, 3.5km from the Palace of Exhibitions and Congresses, and 50m from the commercial centre of the area.
How far is the nearest beach?
This hotel is located 200m from the beach.
Distance from Airport
This hotel is located 30km from Gran Canaria airport.
Rooms
This 5 storey apartments building, with 334 with terrace or balcony. All with view to the pool and to the tropical gardens of each one of the areas. Individual pools in each area for adults; one of those two areas has also a pool for children. Apartments offer a bedroom with two comfortable beds, wardrobe and dressing-table. Complete living room with one wide sofa of convertible as a bed, a cupboard, a telephone, and a safe, 220v. Kitchen with a two ring vitroceramica, refrigerator, and complete household. Wide bathroom with shower and bathtub. Terrace or balcony with table and seats.
Food & Drink
The restaurant can be found in the centre of the complex and here you will find an excellent buffet breakfast, served between 8.00am - 10.00am. Lunch buffet is between 13.00 - 15.00pm and the evening meal buffet between 18.00 - 20.30pm. The Snack Bar can be found by the pool and between 16.00 - 17.00pm will be serving a selection of snacks, ie cakes, pastries.
All Inclusive Food & Drinks
The AI programme consists of breakfast (08:00-10:00), lunch (13:00-15:00) and dinner (18:00-20:30), all buffet style, served in the main restaurant. Tea & coffee time with pastries or plum-cakes is between 16:00 & 17:00 at the pool bar. Locally produced alcoholic & non-alcoholic drinks like soft drinks (cola, diet cola, orange, lemon, seven up, tonic, chocolate shake), draught beer, water (sparkling & still), hot drinks (coffee, cappuccino, tea, camomile), sangria (by the glass), variety of cocktails (tequila sunrise, isles canarias, house cocktail), liqueurs (banana, triple sec, coconut, peach, honey rum, bitter, fernet, vermouth), spirits (rum, whiskey, gin, vodka, brandy, tequila) and wine by the glass (red, rose, white) are served from 10:30-23:00 at the pool bar (11:00-18:00) and the restaurant bar (10:30-11:00 & 18:00-23:00).
Sports & Entertainment
Guests can relax on the sun terrace by the outdoor swimming pool. Other facilities inlcude billiards, tennis court, children's playground and internet room (payable locally). Hairdresser is located in the main hall from 09:00hrs to 12:30hrs and from 15:00hrs to 19:30hrs.
Facilities & Services
There is 24 hours Reception service where you could change foreign currencies, and make use of ours services of internet, fax, telephone, messengers, post, and car, motorbike or bicycle rental. During the winter there is a heated pool.
All Inclusive General Info
In case of low occupancy (less than 12 guests) lunch will be served at the pool bar using their menu or a dish from the dinner menu.
## Upon check in guests will be asked to provide a credit card number, as a security in the case of breakages etc. Upon check out the credit card details will be deleted from the hotels registers. ##
Source: www.onthebeach.co.uk