Sand Dunes in Gran Canaria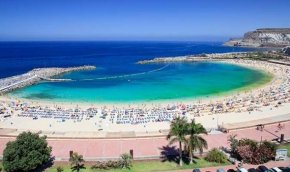 Take a peaceful break at the beautiful island of Gran Canaria [GETTY]
"It doesn't get much better than this, " we said to each other, as the evening sun warmed the ancient palm grove and condensation ran down our glasses.
My son Cieran and I had been invited to a drinks reception, thoughtfully arranged by our hotel so that new arrivals could get to know each other. As we mingled with our fellow guests we discovered that most had been here many times. And as we discovered more about the Seaside Palm Beach hotel, it was easy to see why.
Next morning, after the best breakfast buffet I've ever eaten, we sat down to plan our late autumn break. During our conversations the night before we'd heard of two "must do" destinations, and one of them was literally on our doorstep.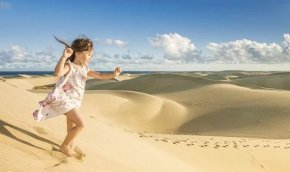 The outstanding beauty of the Dunes of Maspalomas will wow the whole family [GETTY]
The Dunes of Maspalomas, a protected area of outstanding beauty, offer a taste of desert landscape with countless opportunities for pictures as well as for running up and down the sculpted sands (and falling over in them, much to Cieran's amusement).
After our exertions on the dunes we spent a relaxed afternoon back at the hotel enjoying its three pools: freshwater, saltwater and a brine pool heated to 30 degrees, which was perfect for resting those aching limbs.
Next day, following another sumptuous breakfast (not to mention dinner the night before) we decided that the pools needed further research. There's an outdoor gym, should you feel energetic, as well as a spa, or you can just amble through the palms and play shuffleboard, chess or table tennis in the garden.
We were happy just to bob about in the water, soak up some mellow sunshine and remind ourselves how dark and cold it would be back home in Britain.
Writer Sean and his son Cieran were stunned by the desert beauty of Gran Canaria [SEAN BENNETT]
Related articles
On our final day we decided to take ourselves a little further afield. Making an early start we hired a car and headed for the centre of the island and Roque Nublo, a landmark some 1, 800m high that was formed by a volcanic eruption 4.5 million years ago.
The drive took a good three hours, partly because I kept stopping to take pictures of the amazing scenery and partly because the roads twisted and turned like something out of a Top Gear road trip.
The 30-minute trek from the car to the rock itself took us through an eerie lunar-like landscape but then we were above the clouds with breathtaking views all around and a silence that I'd never experienced before in my life.
Source: www.express.co.uk