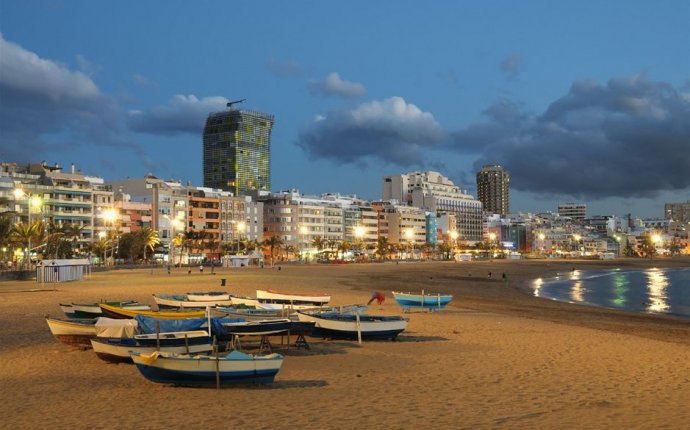 Weather Gran Canaria May
May is another month on the island of Gran Canaria, which gives the island its reputation of being a land of perpetual spring. Warm, not hot, temperatures last all day long and into the night. A cool ocean breeze helps sunbathers to relax and be carried away by the sounds of the ocean. For those who prefer indoor exploits, walking from museum to gallery to monument is comfortable at this time of year, too.
The warmth of summer begins to creep onto the island starting in May. The average temperature is 20°C. The temperature can be as low as 17°C with a potential high of up to 23.1°C. The Atlantic Ocean surrounding Gran Canaria warms up to 20°C so you can plan on a few ocean swims during your stay. Even though it is springtime, rainfall will not be an issue during your holiday. You can expect an average 2 mm of precipitation throughout the month falling over the course of 3 days. Best of all, you can pack sunglasses and summer clothes because there is an average of 12 hours of sunlight daily. Click here for the current weather on the island or here for the 14-day forecast.
Hotels to stay in in May in Gran Canaria
A five-star hotel located in Maspalomas very near to the island's nature preserves is the Palm Beach hotel. It draws in a variety of tourists from families with young children to older couples. Partygoers will also find this resort a great option because it is near the exciting nightlife of both Maspalomas and Playa del Ingles, which often doesn't even get started until midnight and can go on until 6 a.m. This hotel offers other amenities besides its excellent location, such as a huge breakfast buffet, spacious rooms and wonderful staff. In addition, it is close to the La Charca nature and wildlife area.
On the other hand, if you'd like to save money while staying in Gran Canaria, you can book your stay at Cala d'Or Apartments. With a reported lower fare when booking through Ryanair, this hotel is clean and staffed with friendly staff. Within walking distance of the city center of Puerto Rico, these apartments offer a convenient location to explore the local attractions. Be warned however, the pool is not heated so if it's chilly outside or not sunny, the pool could be a shock to the system!
Restaurants and Bars In Gran Canaria
Located in the bustling shopping centre of Yumbo Centrum, the Wapa Tapa restaurant is one of the finest on the island. Known for its tapas, this discreet and small restaurant is a well-kept secret. You will certainly have to make reservations because of the size of this eatery. The menu has a variety of items so everyone in your party will find something they like even if they are vegetarian, vegan, Celiac or just picky.
Another contender for the best food on the island, N'Enoteca offers stellar Italian cuisine. Unlike Wapa Tapa which is known for its low prices, N'Enoteca has a menu with items that are priced comparably to restaurants at home in the United Kingdom or continental western Europe. And similar to Wapa Tapa, you will need to book through a reservation in advance. The restaurant only has five tables and they are often in high demand.
And for a little entertainment and maybe cocktails at the end of the day, consider a trip to Ricky's Cabaret Bar. This bar often doubles as a drag lounge and has sublime cocktails for adults in your party. Just because this bar has drag queens and alcohol, it is generally kid-friendly as the shows and performers keep it light-hearted and devoid of vulgarity during daylight hours. The performers put on shows with parodies of contemporary divas including singing and dancing, making it a one-of-a-kind experience on the island.
Source: www.holiday-weather.com