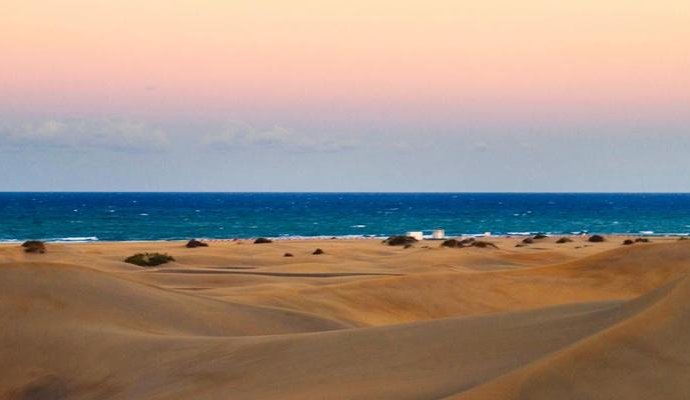 Gran Canaria Playa del Ingles Holidays
Holidays to Playa del Ingles are all about the beach – an enormous blanket of golden sand and rolling dunes. The nightlife in this supercharged town also brings the crowds from far and wide.
One of Europe's biggest resorts
Playa del Ingles is set on the southernmost tip of Gran Canaria. Sandwiched between the smaller resorts of Maspalomas and San Agustin, it's brimming with purpose-built apartment complexes and hotels, big-name nightclubs, and a Saharan-sized beach. Come summer, it draws a young crowd looking to party, but with its long list of daytime activities, it's a certified family favourite, too.
Standout beach scene
The resort has almost 3 kilometres of white sand all to itself – 8 kilometres if you include Maspalomas and San Agustin next door. It's widest at the western end and narrows to a thin wisp to the east. Watersports are laid on close to the Annexo shopping centre, and the main part of the beach is backed by a 2-kilometre promenade crammed with snack bars, pubs and souvenir stores.
Duty-free boutiques
Playa del Ingles is a shopper's paradise. There are 12 commercial centres, which provide a quick fix of duty-free shopping, whether you're after electronics or designer clothes. Lots of them are home to bars and pubs, which come to life when the sun goes down. The Kasbah Centre has all the trendiest bars while Yumbo is the hub for a thriving gay scene.
Close to Puerto de Mogan
Forty minutes on the bus will bring you to the picturesque fishing village of Puerto de Mogan, which is a blaze of colour thanks to bougainvillea and hibiscus flowers. It's earned itself the nickname 'Little Venice' because of the canal that connects the harbour to the marina. Every Friday, the outdoor market fills 2 plazas, so it's a great time to visit.
Source: www.thomson.co.uk