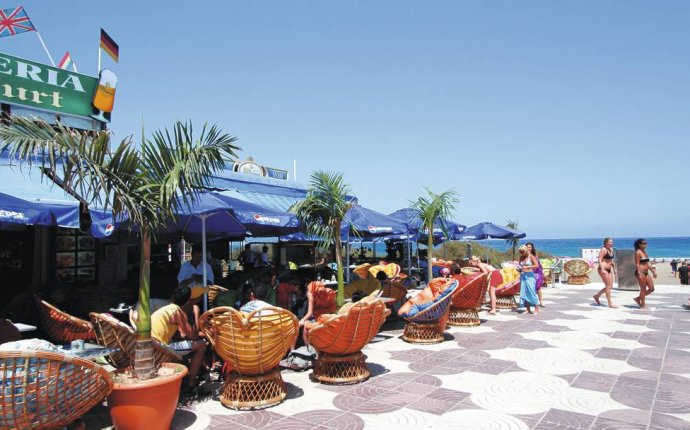 Gran Canaria Playa del Ingles Weather
PUERTO RICO DE GRAN CANARIA WEATHER
Located on the island's south coast in the Maspalomas region, Playa del Ingles's southerly location keeps temperatures high, not to mention the hot dry climate radiating from the nearby North African coast. But the heat is tempered by the moderating effect of the sea and the islands' eponymous, year-round Canary Current, which carries cooler water from the North Atlantic.
Winter in Playa del Ingles brings the year's highest rainfall, though it's negligible compared with other European resorts. The average monthly rainfall is 21-22mm, with January dipping to just 17mm over five to six days. You can expect a mere 27% daily chance of rain during winter. When it does come, rain is usually short, moderate showers, rarely developing into thunderstorms.
December brings the year's cloudiest skies but winds are light, with only gentle to moderate breezes. Snow is highly unlikely in Playa del Ingles, even in the winter.
Winter sunshine hours are at their lowest, but still shining strong, with an average of eight to nine hours per day. The sea remains warm enough for water sports, not falling below 19°C.
The average daily temperature for the season ranges between 17°C and 19°C, with highs up to 20°C and cooler nights at 14°C to 16°C.
The coldest day ever recorded here was on 15 March 2011, with a low of 9.7°C, which is very mild for Europe. Typically, 22 January is the coldest day of the year, with a perfectly manageable average of 15°C to 20°C – still warm enough for a stroll along the beach.
Visitors should be aware of the potential for dust storms blowing in from the Sahara at this time of year, particularly in February and March. These storms can cause problems for people with respiratory conditions and the lack of visibility can result in flight delays and cancellations.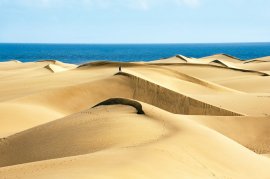 Spring brings similarly pleasant temperatures, averaging 18°C to 20°C, from highs of 20°C to 22°C to lows of 15°C to 17°C. The sea remains constant at 19°C, rising to 20°C in May.
Rainfall drops markedly over the season, with March expecting 10mm, decreasing to 6mm in April and again to just 2mm in May, over four to five days per month, so this is a great time to visit.
Sunshine hours are on the rise, at ten to eleven hours per day on average. March has the driest air of the year, with mild humidity of below 60% three days out of four.
Summer's average temperatures climb to a balmy 21°C to 24°C, with highs fluctuating between 24°C and 26°C and warm nights at 18°C to 21°C. It is not uncommon in summer for the heat to exceed 30°C, so look for accommodation with air-conditioning. The highest temperature on record was on 22 July 2005, which hit a blistering 41.7°C. However, the pleasant trade winds pick up in the summer, blowing across the coast for a cooling effect that takes the edge off the heat.
White sands of Playa del Ingles beach.
The UV factor is high during the daily 11 to 12 hours of sunshine and there is little cloud cover during the whole season, so apply plenty of sun lotion. Rainfall is very low during the summer; in fact from June until August you can expect no rain to fall at all.
Autumn still enjoys warm days and evenings – in fact, the hottest day of the year is often at the beginning of September. The average temperature ranges from 21°C to 24°C, with highs of 23°C to 26°C and lows of 18°C to 21°C, getting milder as the season progresses.
The sea temperature peaks at 23°C in September and October – perfect for swimmers. Rainfall returns to Playa del Ingles in autumn, though during September and October it is still minimal, from 9mm to 10mm over one to five days. In November it rises to 21 mm over five days, with drizzle or moderate showers more likely to occur towards the end of the month.
As the days start to shorten, sunshine in autumn decreases to between nine and ten hours per day and the weather becomes cloudier from the start of October. This month also experiences the year's highest humidity, with over 80% relative humidity three days out of four.
Dunes and sea of Maspalomas.
Weather Hazards
As well as bringing the heat, Gran Canaria's proximity to the Western Sahara means that Playa del Ingles can be affected by the area's more hazardous weather patterns. Dust storms can occur as a result of strong winds blowing in from the African coast, particularly in February and March.
If you suffer from asthma or other respiratory problems, be sure to bring your medication. It's best to head inside if you see a dust storm approaching, as they can seriously irritate the eyes and affect your breathing. They can also reduce visibility to 1000 metres or less, causing potential flight delays and cancellations.
In the peak of summer, hot and dusty air from North Africa can invade the atmosphere and cause temperatures to suddenly escalate. Although they don't last long, it can be useful to ensure that your accommodation has air-conditioning to offer some respite.
Source: www.holiday-weather.com