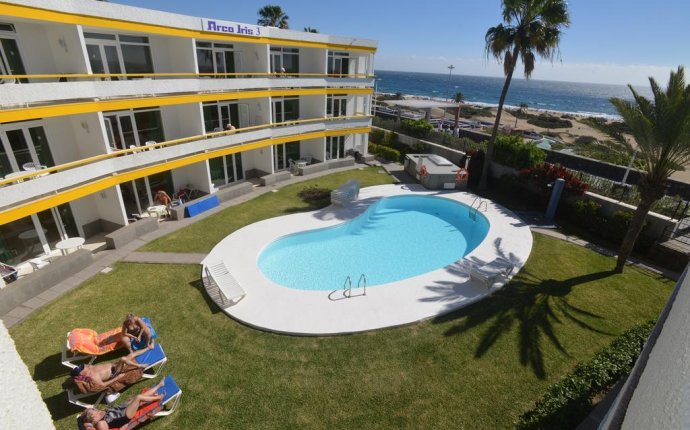 Arco Iris Gran Canaria
Half of Europe flocks to Playa del Ingles in order to meet people and have a great time. From students on holidays, surfers, crazy for jogging, aspiring beach flirts, calendar girls and a lot of gay tourism. But there is also space for families and couples looking for the sun, the beach and good food. Playa Del Inglés has good vibes for everyone, gourmet restaurants, 'beach clubs', and a Blue Flag so you can test the quality of its waters and its excellent facilities for yourself. Some people underestimate it because it is an urban beach with too many amenities compared to a postcard from a paradise vacation, but Playa del Inglés is much more than what the travel brochures say.
Its fame began half a century ago, when the first hotel was built in the Maspalomas area. The arrival of visitors woke tourism development in the south of Gran Canaria and today is the mainstay of the local economy. Since then they have continued to get visitors of all nationalities every day of the year. The average temp is 25 degrees Celsius and is the biggest attraction.
The southernmost beach in Gran Canaria is six miles long and 100 meters wide of golden sand, surmounted by the 65 meters lighthouse and sand dunes just behind. It is a desert mirage on the edge of the ocean which boasts to be the most open-minded in Europe and spreading good cheer to both tourists and locals.
You can discover lonely stretches, rocky coves and sand dunes until – be warned, you get to the nudist beach situated at the snack bar between 3 and 4.
It's worth trying to reach the beaches called Veril and La Cochiana to see these two small coves that have undergone a metamorphosis in recent years. Rocky and inaccessible at high tide they are now an extension of Playa del Inglés, thanks to the construction of three dams and several tons of sand from the nearby beach of Las Canteras.
This area, proudly waves the rainbow flag and the gay community is well regarded here. There are over 60 gay establishments concentrated in the Yumbo Centre, the venue for fun at night with a good selection of restaurants, nightclubs, sex shops and of course, other non gay establishments. The night parties are unforgettable. The Gay Pride Parade in Maspalomas, a festival that each year attracts more than 50, 000 gay, lesbian, bisexual and transgender people from around the world for seven days in the second week of May.
After the surf, the daily strolls or the evening on the sand or the resting after an evening of partying, visitors can still choose from the wide range of restaurants in the area, though it is best to try the Canarian cuisine and delight in, for example, some spicey potatoes.
Source: www.logitravel.co.uk