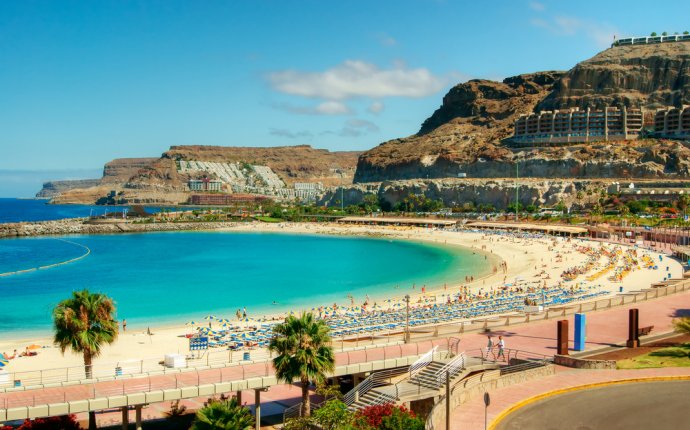 Dublin to Gran Canaria
Breathtaking interior landscapes, 120 miles of coastline and whitewashed villages – a holiday to Gran Canaria promises unforgettable experiences.
Island of many charms
The third-largest island of the Canaries, Gran Canaria is part of the world's vintage collection, because it's been attracting holidaymakers since the 19th century. And, with its collection of long, sandy beaches and hidden coves, its legendary, round-the-clock nightlife and its traditional hamlets, it seems that this spot will be a popular holiday destination for years to come.
Beaches, beaches, beaches
Gran Canaria's coastline spans 250 miles. Along the way it serves up some truly memorable beaches – from long, lively swathes of sand, such as Maspalomas and Playa del Ingles to more secluded and quieter stretches, like Playa de Amadores and Bahia Feliz. So, whether you're in the mood for a massive beach with plenty of watersports, restaurants and bars nearby or an almost undisturbed stretch of sand, where you can escape from the crowds – Gran Canaria has you covered.
Dramatic interior scenery
For those who enjoy experiencing nature at its most authentic and untouched, you'll love exploring the landscape of Gran Canaria's interior. Guaranteed to please everyone from dedicated hikers to leisurely walkers, there are tonnes of footpaths that crisscross the island – including the ancient caminos reales. They offer an excellent way to discover the desert-like scenery of the south, complete with ravines and cacti, as well as the lush countryside of the north, filled with eucalyptus and citrus trees. You can also check out the dramatic mountain range of Pico de las Nieves with its snow caps and cooler temperatures.
Meloneras
As resorts go, Meloneras is a relatively new kid on the block. Set on the southeast coast of Gran Canaria, it's a purpose-built place that popped up to take advantage of the sheltered beach here. While it had the builders in, it decided to throw in some modern cafés and shiny, new shopping malls – and it also swung it to get the island's biggest waterpark right on the doorstep.
Maspalomas
Set on Gran Canaria's south coast, Maspalomas is a sprawling resort with pockets of shops and eating places dotted about. On the nightlife front, it's more of a family player than its partying neighbour Playa del Ingles. It might be a quiet customer but it's got at least a couple of things to shout about – its famous dunes and a whopper of a waterpark.
Amadores
Set on Gran Canaria's south coast, Amadores is a relatively new arrival on the resort front. It hasn't let its status as holiday getaway go to its head, though. What you've got here is a quiet spot with a clutch of waterfront restaurants and a laid-back beach. If you want anything livelier, neighbouring Puerto Rico can always pick up the pace.
Source: www.falconholidays.ie