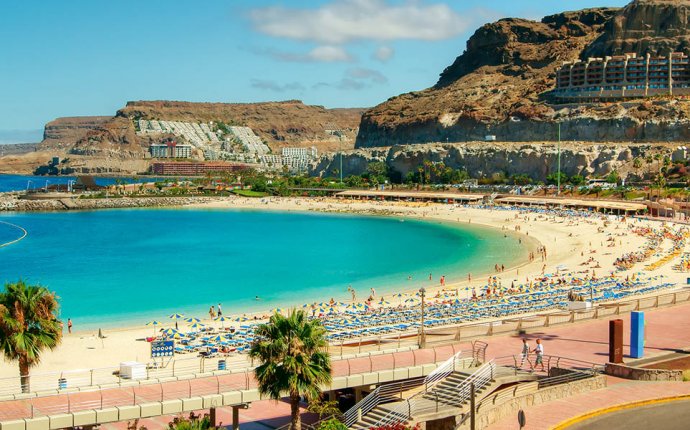 Glasgow to Gran Canaria
It's hard not to fall for the sun-soaked climate and brochure-shot beaches of the Canaries, and in Gran Canaria (home to around half of the archipelago's population) the islands have somewhere that lives up to its popular tag as a 'continent in miniature'. Alongside stylish beach resorts and a lively holiday ambience, you'll also encounter gorgeous volcanic landscapes, a huge UNESCO-listed Biosphere Reserve and a proud island culture.
Happy holidays
There are pleasant temperatures year-round on the island, so a holiday to Gran Canaria from GlasgowAirport holds fairly constant appeal. And with nearly 60km of beach to explore, its fly-and-flop credentials are world-class. Playa del Inglés has long been enormously popular with fun-seekers – Pacha Gran Canaria Nightclub (Avenida Sargentos Provisionales 10) offers a sizzling night out – but the island as a whole is also a tried-and-tested hit with families. Why not try a dolphin safari?
Scenic drama
The interior of the island throws up some truly spectacular scenery, with plunging panoramas of gorges, mountains, cliffs and pine woods. UNESCO has designated almost half the island a Biosphere Reserve, which says much about the variety of the flora and the scale of the volcano-formed landscapes. A recently opened hiking trail now allows walkers to cross the entire island in three days, while more casual nature lovers should make a point of visiting the area around the village of Tejeda, which has staggering views.
Island life
Gran Canaria's location has made it a cultural crossroads for centuries, drawing in influences from Europe, Africa and the Americas. The great seafarers of the past – including Christopher Columbus – called in here regularly for rest and supplies. It's resulted in an island with real depth of history: delve into the culture of the original island inhabitants, visit small colonial towns or sample the myriad flavours that have found their way into the local cuisine.
Source: www.glasgowairport.com