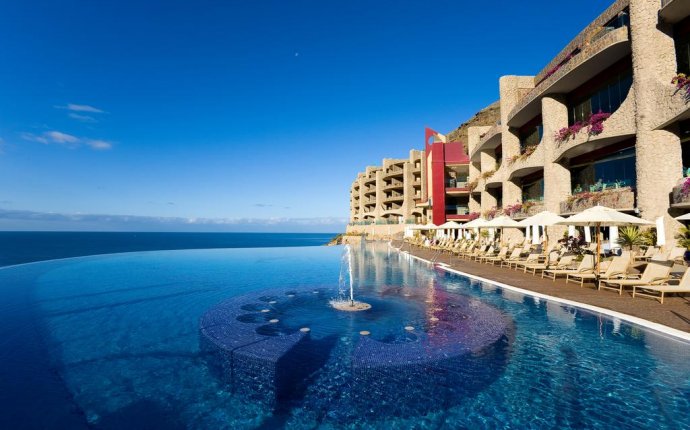 Gloria Royal Palace Gran Canaria
7 / 10
Amadores beach, thanks to the investment of Spain football international midfielder David Silva who grew up in nearby Arguineguín, has become one of the most glamorous locations on Gran Canaria. This is the place to visit chilled-out beach clubs and enjoy an 800-metre horseshoe-stretch of sand in peace and quiet, with ball sports and loud music banned. Yet there's something slightly TOWIE about a beach which features artificial sand. From the airport, you can reach the hotel in under 40 minutes, following the GC-1 road. However, the turn-off to Amadores isn't clearly signposted, so you could well end up in the mountains of Mogán, as we did.
Style & character
The mistakes of the 1970s, which saw the development of eyesore shopping centres transforming the tropical paradise of the south of the island into a facsimile of Coventry city-centre, have been learned. Newer building works have been designed to mingle with the background rather than impose themselves on the landscape. As a result, Gloria Palace's youngest hotel feels part of Montaña de Llamadores, fashioned as it as from local stone.
Service & facilities
8 / 10
Arriving late, the reassurances of the unflappable deputy reception chief, Sascha von Gostomski, meant I didn't remain flustered for long. He informed me that he'd rearranged my massage and put back my tour of the hotel. At the spa, I received a hot-stone massage (€50.50), followed by some fresh fruit and juice. Across the path from the spa treatment rooms, you'll come across the free spa circuit which includes pools, Turkish bath, and Finnish sauna with a top temperature of 80 degrees centigrade. Nearby, there's a gym whose outdoor facilities are popular, especially in the warmer months. Elsewhere, there's an infinity pool and suitably-secluded naked sunbathing area. A hotel tour was led by some Dutch interns whose enthusiasm of youth made up for their less-than-detailed specialist local knowledge.
Bar
Fitness centre
Golf course
Laundry
Parking
Pool
Restaurant
Room service
Sauna
Spa
Steam room/hammam
Wi-Fi
Rooms
The smallest of Gloria Palace's Gran Canaria hotels, the Royal is home to 197 rooms. My fifth-floor double, number 2503, opened out onto a terrace with excellent views over Amadores beach and boasted its very-own miniature cactus garden, preserved by a drip-irrigation system which means the plants receive the exact amount of water they need. There are other water-saving measures taken in this environmentally-conscious hotel, with sinks, toilets, and showers designed to use lower levels of water. The air-conditioning only works when the doors of the room are open, although the draught from one of the island's gustiest areas, along with the marble floors, kept me cool enough. My room was sparsely decorated with the emphasis on primary colours, mainly white. A Samsung TV was one of the standout features, along with a stylish opaque wardrobe.
Source: www.telegraph.co.uk