Gran Canaria best Place to Stay
Maspalomas Gran Canaria hotels and Meloneras area hotels provide the best stay for your Gran Canaria trip. Maspalomas is mainly a tourist town, which is why the best hotels are located either in Maspalomas or Meloneras areas. Both are located on the southernmost tip of the island. Maspalomas is a lot like Palm Beach, Florida, or Palm Springs, California in terms of infrastructure and entertainment, because in both places you will be able to enjoy casinos, shopping centres, golf courses, sports centres, and theme parks. Twelve hotels are recommended in the area of Maspalomas and Meloneras. They are recommended by Tripadvisor tourists who have visited the island for a variety of reasons including friendliness of the staff and relaxation.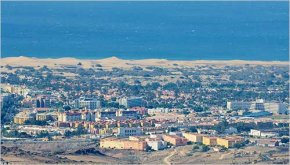 A view of Maspalomas, with all the hotels and apartments
Seaside Hotels, a German company, has two of the best Maspalomas Gran Canaria hotels:
Maspalomas Gran Canaria Hotels: Seaside Hotels Group
- Seaside Grand Hotel Residencia
The number one feature of Seaside Grand Hotel Residencia, are the beautiful gardens and flowers. Fresh roses are put in the rooms, every day. It is a high class establishment where you can relax, especially because it is an adults-only hotel, and there are no screaming children running around. Whether you want local cuisine close to the beach, or a hotel restaurant with fabulous food, you will find it here. The hotel is kept spotlessly clean and well maintained, and the staff members are polite and friendly. It is one of the best Maspalomas Gran Canaria hotels.
- Seaside Palm Beach
Seaside Palm Beach is a family hotel. Luckily, there is a separation with the pools providing an adult only area should you come as a couple instead of as a family. Good service, professional management, and a nightly turn-down service (this is when the maid comes in your room and turns down the bedcovers) are a few amenities here. The rooms offer pool or beach views. The beach is less than 100 metres away. Rooms are designated into categories such as a "C category room" with a beach view, but smaller square footage. Even the bathroom is small, but the shower has a good spray. Of course, the sizing makes little difference for those who want to be outside enjoying Gran Canaria.

Lopesan Hotels
Lopesan, a Canarian company, owns and operates four of the top Maspalomas Gran Canaria hotels:
- Lopesan Baobab Resort
The five star Lopesan Baobab Resort boasts an African theme. There are several forested swimming pools, which one might want to patrol for native wildlife. Great service and excellent views make this a great place for families to stay. The buffet food service offers many different choices every night. Some rooms offer private balconies, while all provide shower-tub combos. For those hoping to get a perfect tan, there are sun beds aplenty to while away the hours. After relaxing in the sun and surf, have a marvelous evening with the hotel's nightly entertainment.
Source: www.gran-canaria-beaches.com