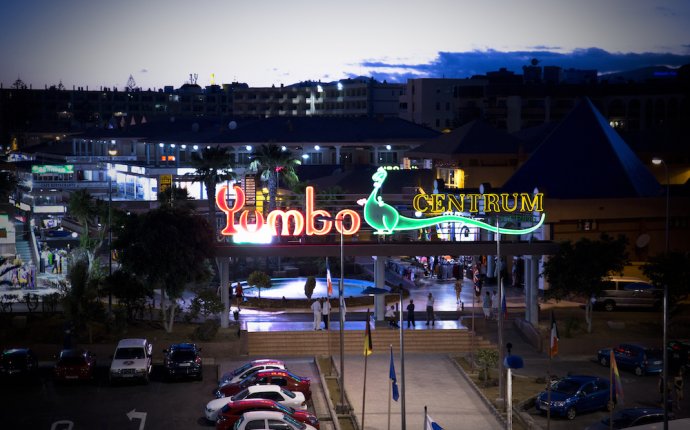 Gran Canaria Shopping Maspalomas
Aside from the traditional religious fiestas that are celebrated throughout the Canary Islands, Maspalomas is best-know for the following three fiestas:
Maspalomas Carnival
This week-long series of shenanigans includes singing, dancing, beauty contests (i.e. drag queen), and parades under a different theme every year. The Burial of the Sardine (early March) marks the end of the Carnival where a sardine-shaped bonfire is lit at the end of the parade. Men accompanying the parade dressed as mourning black widows and the ambience is solemn and sad. The event was followed by yet another fancy dress party, however.
Gay Pride Parade
A world-renowned 10 day-long gay party featuring raves, drag queens, pool parties, and gala balls – all best enjoyed in a colourful lycra costume (beginning of May).
Restaurants
There are a huge number of restaurants offering food of every kind - from tapas bars, steak houses, and fish restaurants to other European and Asian restaurants, including German, English, Italian, and Asian restaurants, it is entirely possible to have a different nationality of cuisine every evening of your stay in Maspalomas. The restaurants can be found in the town centre and also within the shopping and entertainment complexes. You may wish to head to the neighboring town of Playa del Inglés if you want to venture out of the resort for a little.

Nightlife
There is an abundance of late night venues dotted around the central squares and sea front of Maspalomas, offering a more laid back and refined variety of drinking, eating, and dancing establishments, catering for a wide clientèle including young families and couples. These include a vast selection of pubs and bars such as Irish and English pubs, or karaoke, surf, salsa, jazz, and gay bars, many hosting daily live music shows. Most of these are usually free entrance, but often have slightly expensive drinks.
Some of the popular venues for going out are:
Plaza Maspalomas
Located on the Sunset Boulevard, you will find great live music and entertainment shows, and a wide range of reasonably restaurants - for example at Alabama's, next to the Hippodrome, you can find a great mixture of live R&B, Soul, Blues, Reggae, and Rock 'n Roll.
Kasbah shopping and entertainment centre
The night life here is geared towards the general tourist with a number of bars with every type of music, including a salsa bar providing lessons throughout the evening. More lively bars are a target for the younger tourist and play a wide range of music, drinks and price offers. If you are out for a good time the Kasbah will not disappoint. Be aware of touts who will be on a mission to get you to their establishments, particularly men, who will be targeted by the strip bar touts.Harley Rock, an American-style Tex-Mex diner that serves food until 3am, has a happy hour from midnight to 1am, and hosts plenty of music and other entertainment shows.
Where: Calle de Málaga, Playa del Inglés, 35100 San Bartolomé de Tirajana, Gran Canaria island.
Telephone: (+34) 928 776 399
Yumbo shopping and entertainment centre
At Yumbo, during the day, you will find shopping of every kind as well as street performers and bazaar style stalls. By early evening, continuing through until the early hours of the morning, the abundance of bars and clubs in this centre come to life. This is a major destination for gay tourists however many of the themed bars are popular with all visitors. There is also a wide range of entertainment in the way of dance performance and singing.
Where: Avenida E. E. U. U. No 54, 35100 Playa del Inglés, San Bartolomé de Tirajana, Gran Canaria island.
Telephone: (+34) 928 764 196
Should you wish to push the boat out a little further, you could also head over to Playa del Inglés for the pulsating Joy and Cream clubs.
Holiday World and Punta Zero Bowling
Holiday World has a late night amusement park, and many free entry-bars and discos on offer.also houses Punta Zero, a 16 lane bowling alley. Here you will find equipment hire, a bar, a restaurant, special deals and a café.
Where: Holiday World, Avienda Touroperador Tui, 35100 Maspalomas, Gran Canaria island.
Opening hours:
Holiday World: Daily 17:00 to 23:00 (winter), 18:00 to midnight (summer).
Punta Zero Bowling: Thursdays - Sundays 10:00am - 02:00am, Fridays 10:00am - 03:00am and Saturdays 10:00am - 04:00am.
You can reach Holiday World by bus number 25, 30, 32, 36, 45, 52, 66, 70.
Street market
There is a street market, Mercado Municipal, which takes place on Wednesdays and Saturdays from 08:00 to 14:00 on the Avenida Alejandro del Castillo, at the end of Calle San Fernando. Here you can find anything from shoes, clothes, and fake designer handbags to jewellery and also fruit. Don't forget to haggle, and beware that it gets busy fast.
Shopping centres
Unless you want to venture out to the supreme shopping hub in the area, the
Yumbo Centrum
in Playa des Inglés (Avenida Estados Unidos 54, near the Hotel Sandy Beach and the seaside; phone: +34 928 764 196), where you can find typical Canarian handycrafts in the government- funded FEDAC shop, there are two primary venues at your disposal in Maspalomas itself (among plenty of others to choose from):
Centro Comercial Faro 2 (Calle San Bartolomé de Tirajana; phone: +34 928 769 197), which, much like the actual faro ('lighthouse'), lights up its surrounding with a wide range of Spanish and international designer stores and boutiques, and amusement arcades.
Source: www.ihoppers.com