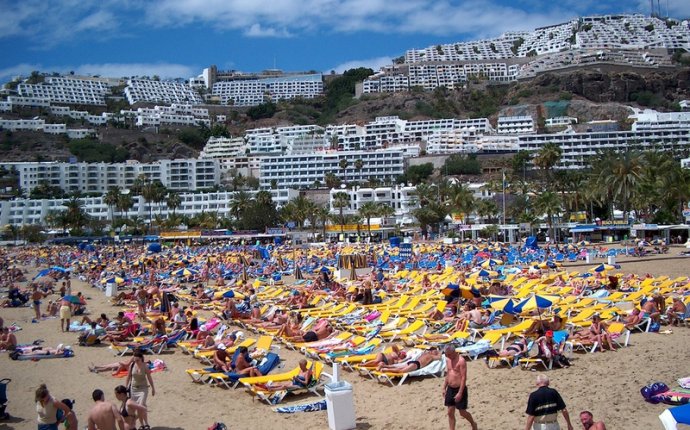 Hotels on the Beach Gran Canaria
Warm sunshine, cocktails on the beach, surfing and clubbing - a holiday in Gran Canaria is like one endless summer, whatever time of year you visit. Let us help you find a cheap hotel in Gran Canaria and get the party started.
Beaches
One of the great attractions of the Gran Canaria are its sandy, white beaches, where you can relax in the sun's warming glow. Maspalomas is the most famous of these, with clean sands that have won the Blue Flag award for outstanding beaches in Europe. Take a stroll along the promenade and see the old lighthouse that used to guide ships here for many years.
Another popular beach is the Playa del Ingles, which is ideal for unwinding. Close to many hotels in Gran Canaria, there is also a promenade lined with shops, restaurants and bars for when the heat gets too much.
Sand Dunes
The Maspalomas sand dunes are an area of outstanding natural beauty that every visitor here should see. The shifting dunes are a unique sight and part of a nature reserve, along with the nearby La Charca lagoon, where you can appreciate various types of wildlife and fauna.
From Dusk Till Dawn
The nightlife here is very lively, and the cheap hotels in Gran Canaria fill up fast with holidaymakers looking to party. Things don't really get going until later into the night and most clubs and bars stay open well into the early hours.
Playa del Ingles is a popular resort and there is a strong gay scene here, with bars such as Yumbo. The Hard Rock Café is another good place to hang out, along with the Kasbah Centre, which has plenty of pubs and clubs for the younger crowd.
Sports
With its gentle climate, Gran Canaria allows you to enjoy a wide range of sports throughout the year. From horse-riding to rock-climbing, Gran Canaria has it all, but it's the water sports that are really the main attraction. Try surfing, jet skiing, and fishing, or take a boat trip whale and dolphin watching for something a little more sedate.
Surf and Turf
You don't have to stay in your hotel in Gran Canaria to get great food. With influence from the Spanish mainland, Latin America, and Africa, there's a wide range of dishes to sample in the many bars and restaurants.
Wapa Tapa, in the Yumbo Center is a decently priced restaurant and bar with delicious tapas and a fine selection of local wines. For good sea food, try Playa del Ingles in the Yumbo Center, which is also reasonably priced.
Source: www.lastminute.com