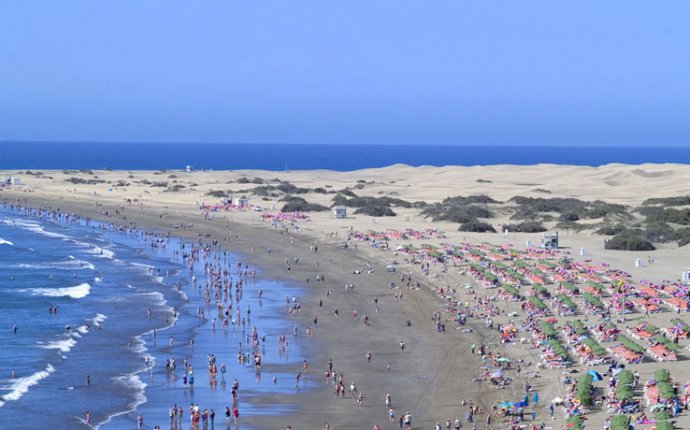 Playa Ingles Gran Canaria
Imagine for a moment a world with a Beach University, an academic centre where the beaches of Europe can achieve a degree for being the "best bathing destination". Perhaps you should know then that such a Beach University exists, and that Playa del Inglés, in southern Gran Canaria, graduated from it many years ago.
Indeed! Playa del Inglés holds an honours degree. Why? Well, perhaps it scored an A+ in fine weather, as it enjoys a gentle sun nearly all through the year. A privileged weather that is almost the norm along the great stretch of sand that starts in Maspalomas and ends in Playa del Inglés, at the foot of those hotels that seem to bend as if they are trying to dive into the ocean.
Playa del Inglés is also a certified "one-hundred-smiles achiever". Such a degree is awarded to holiday resorts visited by thousands of Europeans, to the best sunny spots for hundreds of families over decades. Playa del Inglés can also boast being the perfect beach for your little ones, as it is very wide, with protected areas, and is ideal for fun-seeking children. Plus there is a wide range of shops and amenities in the surrounding area.
Playa del Inglés also scored high marks in the "fun-beach" category. As one of the most visited and crowded beaches in Gran Canaria, it has clearly marked out areas for youngsters, is the meeting place of surfers, running enthusiasts, capoeira freaks, smiling beach workers, calendar girls, and groups of friends diving under the waves.
All this hustle and bustle was essential for Playa del Inglés to fly through the "sports-beach" category with top marks. The curve where the secluded nudist area begins is surfing country, while this less visited section is ideal for those who wish to sunbathe on their own. In the end, this is what makes this place so attractive: there are lots of different options to choose from in your day on the beach.
There are a thousand possible types of beach days for each bather hitting the sand every morning, at the start of the unending land of dunes, far from the area where the hotels seem to want to dip their toes in the sea.
Source: grancanaria.com