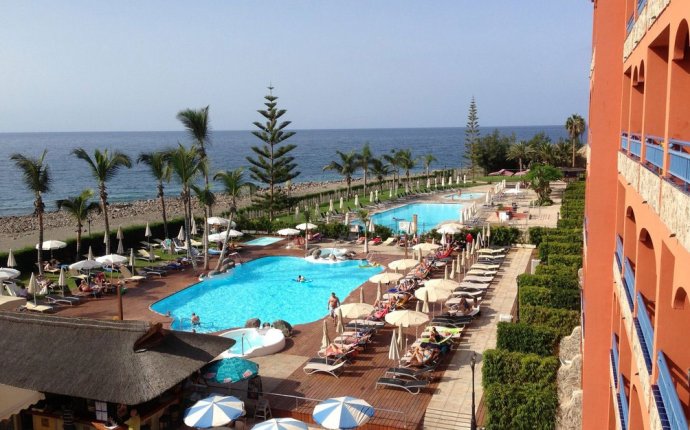 Riviera Marina Gran Canaria/
7 / 10
Before the GC-1 super-highway was extended, the journey from Maspalomas to Puerto de Mogán followed a coastal route. It's along this old GC-500 that you reach Labranda Riviera Marina. The journey from the airport takes just over half an hour. Lively Puerto Rico, with its Angry Birds Theme Park, is around five minutes away by car. Heading in the opposite direction, the journey time to the more sedate resort of Puerto de Mogán, aka Little Venice, is closer to 15 minutes.
Style & character
The orange exterior of this modern hotel is softer on the retina than it sounds. The interior is even more colourful, with purple and charcoal combinations. The takes on celebrated modern artworks throughout the hotel show the Labranda Riviera Marina in a playful, tongue-in-cheek light.
Service & facilities
8 / 10
There are two main pools, with the one closest to the snack bar more popular as it's heated. Head downstairs to a sauna and fitness centre. You'll also find the in-house masseur here - Rafael Cabrera, who supplies treatments such as 45-minute therapeutic massages for €40 (£31). The Lounge Bar features live nightly performances, which are moved outdoors in the summer - when we visited, we saw a flamenco trio with pop sensibilities.
Staff are approachable and have a can-do attitude.
Bar
Fitness centre
Kids' club
Parking
Pool
Restaurant
Sauna
Wi-Fi
Rooms
Orange and purple featured prominently in our second-floor standard double room and there was a designer four-poster bed. The frosted glass made the shower, which looked out onto the bedroom, just about non-transparent. Curtains were heavy, offering shade from the bright sun. The floor was terracotta in the bathroom and wooden in the bedroom. We looked out over the rather unexciting entrance to the hotel, although there are sea-view doubles available too. The Magnum suite boasts an outdoor hot tub and living room with fridge and minibar.
We offer a price guarantee on every hotel booking
Your passport to a better trip
Food & drink
Main meals are served in a basement restaurant, with ingredients clearly indicated next to the various buffet dishes. A Canarian salad at dinner went big on two of the island's main products: cheese and tomato. There were nods to the Spanish mainland too, and Murcia, with a pisto [Spanish ratatouille] manchego.
Help yourself to beers, soft drinks, and snacks at the pool bar, where there's also a paella-making workshop at midday on Saturdays. The adults in our party drank Tequila Sunrise cocktails at the purple Lounge Bar, which felt like an homage to Prince.
Source: www.telegraph.co.uk