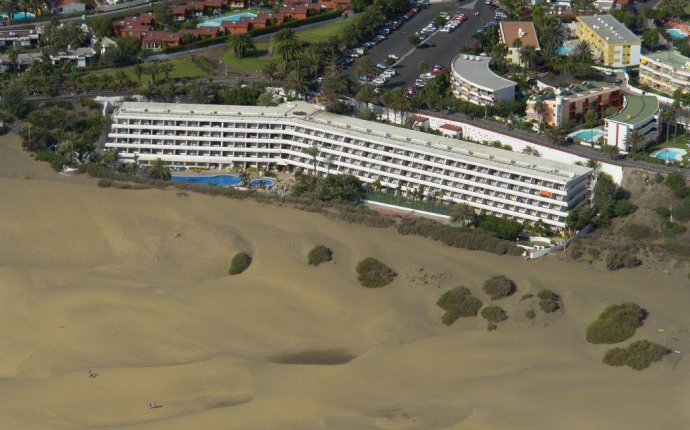 Santa Monica Gran Canaria
9 / 10
Gran Canaria, despite its status as one of Europe's most popular holiday islands, has few genuine beach hotels. Santa Mónica Suites isn't situated above a beach but on one, and not any just beach but the famous Playa del Inglés. Follow the GC-1 south from the airport and you can be from terminal floor to shore in under 25 minutes (and nearly three quarters of an hour if you take Global's 90 bus line).
Style & character
8 / 10
Although there's not much of a wow factor, it's still something of a novelty to take a lift from the Playa del Inglés promenade down to Playa del Inglés beach. Because of its physical location, this hotel appears to be almost underneath the beach let alone part of it. The décor feels more muted than ostentatious, although the exterior lighting up blue at night is pretty flashy.
Service & facilities
7 / 10
The staff though seemed keen to impress, eager to cement a reputation as a new iconic hotel in the area; helped by the choice of name, redolent of the nearby old Apollo reborn as the award-winning Bohemia Suites & Spa. The Sun & Moon Massage Center houses a Finnish sauna with vistas of the dunes and offers a wide range of treatments, including special 55-minute massages for pregnant women costing €58 (£52).
Bar
Beach
Fitness centre
Laundry
Parking
Pool
Restaurant
Room service
Sauna
Wi-Fi
Rooms
There are 182 junior suites arranged over five floors. I stayed in one of the 113 ocean-view suites spread across floors three, four, and five. A further 39 second-floor suites overlook the gardens whilst the 30 remaining first-floor suites include a terrace. Opting for an early night, I appreciated the soundproofed walls and windows. The ceramic floor was made to look like wood and the split-level layout clearly separated the living area from the sleeping one.
We offer a price guarantee on every hotel booking
Your passport to a better trip
Food & drink
Regrettably my Monday-night stay coincided with the á la carte Restaurante Arena being closed, as it also is on Sunday and Tuesday evenings. The €46, 50 (£42) tasting menu caught my eye with the likes of gofio (toasted cornmeal), mint and fish croquettes accompanied by alioli with Canarian saffron. The buffet restaurant, with two sittings at breakfast and dinner to avoid overcrowding, offers the usual mix of pre-prepared pizza and paella with a dollop of show cooking to refresh the play-safe recipe.
Source: www.telegraph.co.uk