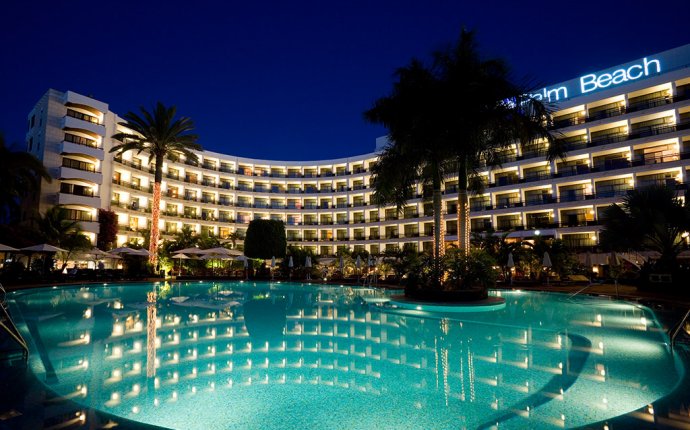 Seaside Palm Beach Hotel Gran Canaria
Seaside Grand Hotel Residencia offers its guests tranquil surroundings and facilities which go well beyond those of the normal luxury 5-star hotel. The library of Seaside Grand Hotel Residencia is perfectly equipped to accommodate meetings of up to 20 participants. There is free W-LAN throughout the hotel. Facilities can be provided for wedding celebrations and other special occasions depending on the season and the number of guests. Seaside Grand Hotel Residencia has a luxury restaurant with an idyllic view for wedding parties of up to 15 guests, enabling you to enjoy our excellent cuisine in an intimate atmosphere.
At a distance of only 200 metres our neighbouring luxury sister hotel Seaside Palm Beach is the ideal location for major events. Here you can celebrate events of all kinds such as meetings and business meals, weddings or anniversaries and birthdays in a unique atmosphere.
Seaside Palm Beach has four events rooms featuring the latest equipment and charming interior decor created by the prestigious interior decorator Alberto Pinto. At 156 m² the conference room can accommodate up to 100 guests, depending on the type of tables used and their arrangement. Here you can celebrate exclusive events with large groups. In addition Seaside Palm Beach has further rooms of various sizes for all kinds of occasions: our mediterranean restaurant Esencia with 76 m², and, for small-scale events, a meeting room sized 19 m².
Your creature comforts are also well cared for - with a choice of Seaside Palm Beach offers high-quality dining in exclusive surroundings.
The of Seaside Palm Beach is well-known for its exquisite cuisine, with leading chefs ensuring gourmet dining in our restaurant in Gran Canaria. All dishes are prepared with high quality products which are sourced locally wherever possible.
Our will entrance you with its idyllic Mediterranean ambience. Here chefs treat you to delicious mediterranean dishes to accompany choice wines. All dishes are prepared with selected fresh ingredients.
Seaside Palm Beach has beautiful gardens in which you can celebrate your wedding in the shade of the palm trees. Thanks to the latest technical equipment your special day won't fail to be an unforgettable experience, with our culinary services and outstanding in-house catering ensuring the all-round success of your event.
Please note that if one of the wedding partners is not normally resident in Spain, the existing bilateral treaty between the relevant countries should be consulted. Of course you can always celebrate an unofficial and romantic wedding in our palm oasis in the south of Gran Canaria.
Source: www.grand-hotel-residencia.co.uk