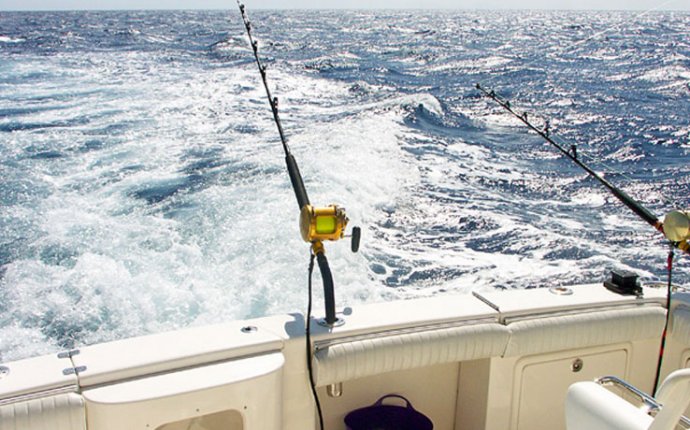 Sports fishing Gran Canaria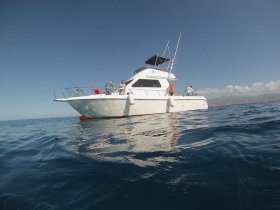 Price
Best price guaranteed
Meeting place: Pasito Blanco Port
Tour days: from Monday to Saturday from 9:00 am till 3:00 pm. July - August two departures: Monday - Sunday 9:00 am - 3:00 pm and 3:00 pm - 8:00 pm.
Duration: 6 hours
Pick up from the hotel: Yes, in the tourist zones of southern Gran Canaria.
Included:
B
eer, soft drinks, water and sandwiches
Languages:
¿Questions about the tour?: send us an e-mail Enjoy a thrilling day of
sport fishing in Gran Canaria
, leaving from the Pasito Blanco pier, located between Maspalomas and Puerto Rico. You can come alone or with friends, can share the boat with other clients or can rent the entire boat in order to go
deep sea fishing in Gran Canaria
on a private charter.
The abundance of fish in Gran Canaria allows us to fish all year round. In the autumn and winter, it's common to catch fish such as snappers, groupers, mackerel, seabass, eels, morays and blacktail combers.
And in spring and summer, the current brings in blue marlin, white marlin, yellowfin, longfin, spearfish, bluefin, big eye, skipjack tunas and dorados. In addition, we can fish for small tuna (from 25 to 30 kilos) throughout almost the entire year (February to November) and for large tuna (up to 400 kilos) from March to May.
The boat on which we will enjoy this experience is 11 metres long and more than 4.5 metres wide, which allows us to take up to 10 people on the same trip. In fact, each fisherman will have his or her own rod. You can come with other fishermen, or with companions who don't want to fish but who want to share the experience of a fishing charter boat in Gran Canaria.
If you are an expert fisherman, you already know the unique sensation of big game fishing, and if you aren't, you will have the opportunity to experience it on our journey. Don't worry if you don't have any experience, since we will teach you how to fish and will give you all the instructions you need before and during the catch.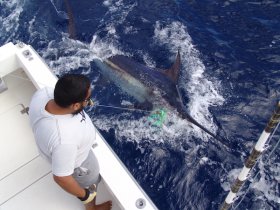 Even though the fish aren't guaranteed, the 25 years of experience of the boat captain, Pedro Ortiz, and his crew make it highly likely that you'll be able to find and catch fish.
During the cruise, we can switch from total calm, from the tranquillity of a relaxing boat ride, to complete excitement as a fish takes the bait. Depending on the type of fish you're catching, the catching manoeuvre can last between 10 minutes and 2 hours, with maximum concentration to get your reward.
But there are other surprises that can impress you as you go deep sea fishing in Gran Canaria. Although whales are occasionally seen, with their unmistakeable spout, it's common for us to be surrounded by pods of dolphins for part of our trip. They are so close to us that it even seems that you could take a selfie with them.
And the views of the coast of Gran Canaria—particularly the entire area of Meloneras with its spectacular hotels—the Maspalomas Lighthouse, the dunes and other attractions complement the excursion.
In short, we will offer maximum opportunities for sport fishing in Gran Canaria so that you can enjoy fishing for marlin, tuna and many other fish while you discover other attractions in this area of the Canaries.
Our clients' latest comments
Tommy
A gamble that didn't pay off. In the 6 hours that we went around, we didn't catch anything, but it was still worth spending a day on the sea.
Carl
Well organized. Note that the owner, Pedro, is always on the boat and has fishing experience. He made us feel at home and guided us in catching a quite large tuna.
Jeremy
Disappointing. We didn't catch anything but it must be said that the captain took us around for 6 hours in search of fishing grounds, and that helped us have a good day.
Wayne
Perfect day with friends. 3 of us fished and 2 came as companions, and we had the best day of our holiday in Gran Canaria. The crew, the boat and the fishing were all fantastic. We will definitely return.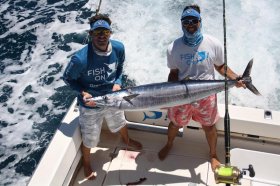 Derek
Best fishing in Gran Canaria. Whenever we come to the island we go fishing, and on this boat, thanks to the crew's experience, we have caught blue and white marlin, a 200 kilo tuna and other, smaller fish.
Curtis
As good as ever. I have already been fishing 5 times on the Blue Marlin, and although we don't always catch anything, the service of Pedro and his crew is always stupendous and the boat trip is always relaxing.
Joseph
We'll do it again. Although it was cloudy and there was a bit of surf, we spent 6 pleasant hours on the boat, and one person caught a medregal and another caught a huge tuna.
Douglas
Great day of fishing. The experience of Pedro and his crew helped us catch 2 huge tuna.
Patrick
Relaxing and fun. I went with my wife, who came as a companion, and we spent a wonderful day relaxing and having fun catching tuna over 20 kilos.
Marcus
I will do it again some time. The boat is comfortable and Pedro is very good. My wife and children and I had a fantastic day.
Travis
Few fish. There were 7 people fishing on the boat but only 1 was lucky enough to catch a tuna. Even so, we had a good day.
Chris
Unforgettable. We had, according to the boat captain, one of the best days of the month. The weather was sunny, the sea was calm, and between the 2 of us we caught a huge tuna.
Vincent
Bad day of fishing but a magnificent day on the sea. We were searching for fish throughout the entire excursion but didn't catch anything. All in all, it was an incredible day due to the number of dolphins and the whale that we saw. We just missed catching some of the big fish we were looking for.
Charles
Fantastic day. We got 2 medregal and a barracuda, and it happened to be a beautiful day in Grand Canaria, with a calm sea and clear sky.
Paul
Great day for fishing. Captain Pedro has a lot of experience and we were able to catch 2 large tuna in the morning.
Matthew
Good service but we didn't catch anything. I have been fishing for many years and know that a catch is never guaranteed, but thanks to Pedro we were able to have a beautiful day regardless.
Donald
Fantastic experience. It was the first time that I fished in my life and it seemed really fun, something I'll definitely do again.
Frank
3 days of fishing. We loved both the experience and the service provided by Pedro and his crew so much that our group of 4 friends went back 2 more days in a single week.
Tom
Perfect. They picked us up in Maspalomas and Playa del Ingles. The boat is big and we not only caught marlin, but also saw many dolphins around the boat throughout much of the day.
Tina
A good quality-price ratio. Our group of 8 was very comfortable that day and the service by the crew was very good, as was the boat itself.
Daniel
Recommended. I went with my wife and son since they offered free pick up in Playa del Inglés and Maspalomas. The service was very good, from the time they picked us up at the hotel until they dropped us off. My son had beginner's luck because he was the only one who caught a 20 kilo tuna.
Steven
Worthwhile. I've been fishing for more than 20 years and whenever I come to Gran Canaria, I know exactly where to go. On this boat I have already caught a 300 kilo tuna and various marlin and seabreams.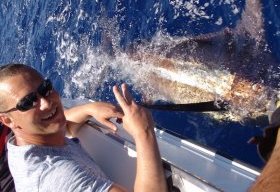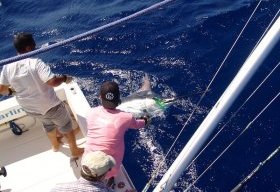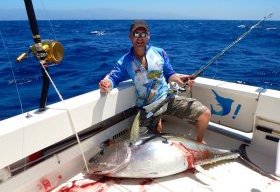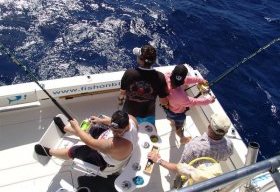 Source: www.okgrancanaria.com