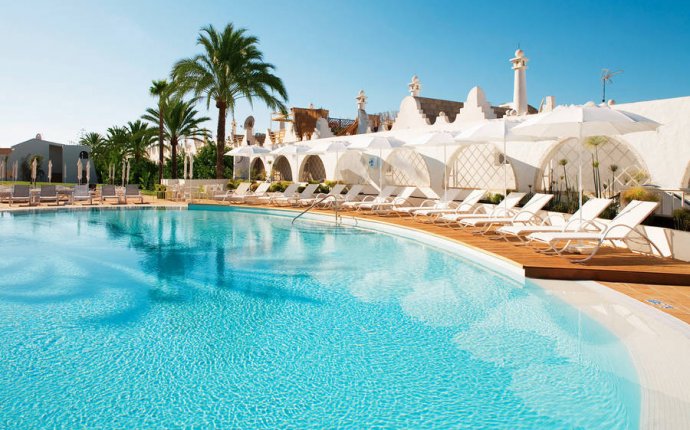 Sunprime Atlantic View Gran Canaria/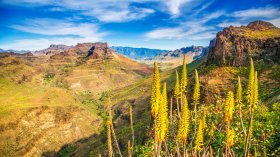 The Gran canyons
It gets an average of only 20 days' rain a year — perfect for sun-starved Brits in the long, dark months
By TILLY PEARCE
BRITISH winters are always grim so it's no wonder many of us choose to head to Gran Canaria instead.
This volcanic island gets an average of only 20 days' rain a year — perfect for sun-starved Brits.
We plumped for Thomas Cook's adults-only Sunprime Atlantic View apartments and spa, a 4H resort 15 minutes from the bright lights and bars of Playa Del Ingles.
Getty Images
View over Colada de Tejeda
It offered the best of both worlds — close enough to enjoy the beaches and nightlife but far enough away to guarantee a relaxing break.
The all-suite resort means every room has a kitchenette and living area, as well as jaw-dropping views over the pretty white buildings and tropical gardens to the sea.
While lounger-lovers will be happy to relax around the three beautiful pools, it would be a crime not to head out and explore the rest of the island.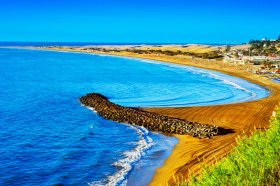 There is a regular shuttle bus to drive you the 20 minutes to Maspalomas beach, where you can explore the shops, see the lighthouse or, for the more adventurous, try a camel ride across the sand dunes.
If being a beach bum isn't your thing, admiring the island from the clear waters is a great way to kick off your trip.
Playa del Ingles beach and Maspalomas Dunes
We clambered aboard the aptly-named Aphrodite for a romantic sunset cruise, but you can also take day cruises with the chance to spot whales and dolphins. It's not until you clamber aboard a dusty, open-sided jeep that you really get to see the magic of this little island.
Its volcanic past comes into very sharp focus as you wind your way through landscapes formed millions of years ago by seismic activity — devastatingly gorgeous cliffs, rocks, ravines and lakes.
The village of Fataga is great for a lunch break and most trips will stop at points along the way, allowing you the chance to admire the Canarian vegetation and enjoy a cooling dip in the fresh waters at the Soria Dam.
Our driver, Gary, was a fount of knowledge when it came to the quirky, off-the-beaten track parts of the island you would never get to discover yourself.
These included rock formations such as "the sleeping man" and "the gorilla", as well as a pit stop at an aloe vera plantation. It was useful after an impulse purchase became my saviour when I burned my back in the sun.
If you want to stay in the resort there is plenty to do, from lounging by the pools to enjoying its excellent spa facilities.
Ted Lindholm Ted Lindholm
Sunprime Atlantic View
I went for a one-on-one session with a personal trainer to kick-start my diet while on holiday.
There is something to be said about people who are willing to work out in 29C heat with a personal trainer, and I tip my hat to them. Unfortunately, as a size 16/18 gal working out on a crosstrainer while a svelte size 8 in a teeny bikini unashamedly stared at me by the pool, I didn't exactly feel great.
However, Ashley — Sunprime's instructor and personal fitness trainer — was incredible, and he worked hard to make me feel a little less self-conscious.
Source: www.thesun.co.uk