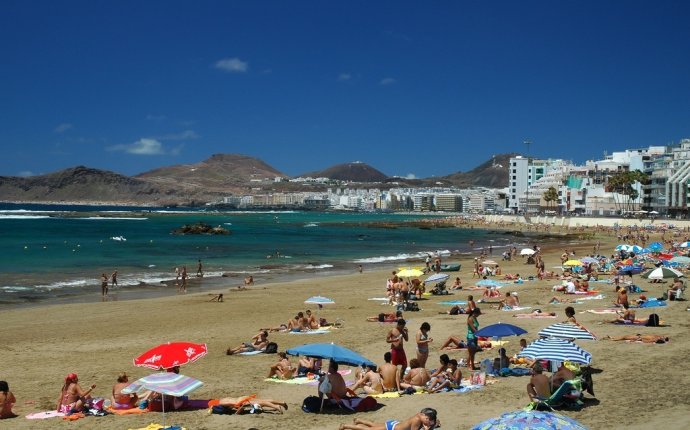 Temperature Gran Canaria January
Las Palmas de Gran Canaria has a subtropical climate, with warm temperatures throughout the year and dry summers. Located further south than Spain, the city enjoys a warmer climate during the winter than other Spanish cities. January is one of the coldest months in Las Palmas, though it is still pleasant with an average temperature of 18°C keeping it warm enough for a great winter vacation. An average day ranges from a high of 21°C in the afternoon to a low of 15°C at night. The highest recorded temperature in Las Palmas in January is 27°C while the lowest on record is 4°C.
Rainfall is minimal, with an average of 27mm of rain throughout the month and eight rainy days throughout the month, despite being the third rainiest month of the year. December is the wettest month with 37mm of rain over 11 days while August is the driest–and warmest–with an average of one rainy day, which results in less than 0mm of rain. Overall, visitors have a 20% chance of a rainy day while visiting Las Palmas in January. There are about eight hours of sunshine during the day in January for tourists to enjoy the city. There is a 40% chance of a sunny day during this month. Although even in the sun, the humidity keeps Las Palmas moist, with a January average of 68 percent humidity.
If you're planning a visit to the beach, the average sea temperature during this month is 19°C, which is chilly but still warm enough to enjoy the water. With a 43 percent chance of a windy day though, the January coast may be too windy for some beach activities like parasailing. Average wind speeds in January average around 20kmh. However there are plenty of other activities in Las Palmas to enjoy on a windy day with a little planning by taking a look at the forecast.
Where to Stay:
NH Imperial Playa hotel is located on Las Canteras beach with easy access to shopping and restaurants, making it a great spot for visiting in January when the wind and rain might require an occasional day off of the beach. When the weather's nice, it's just steps away from the water. The hotel restaurant and bar offer views of the sea along with unique local cuisine and common international favorites. All 142 rooms offer modern comforts such as air conditioning and free Wi-Fi, while the Superior rooms and Junior Suites boast striking views. The Junior Suites also have private balconies overlooking the ocean. NH Imperial Playa also offers bicycle rentals, complimentary coffee, dry cleaning and laundry service, and safe deposit boxes.
Built in 1890, Hotel Santa Catalina 5 is a beautiful example of the rich history in Las Palmas de Gran Canaria. Famous personalities such as Sir Winston Churchill, Gregory Peck and various presidents and royalty have chosen the Hotel Santa Catalina 5. Situated in the center of a large park, the hotel is surrounded by palm trees and only a few meters away from the promenade. Each of the elegant 202 rooms offers a mini-bar, safe, television and free Wi-Fi. La Terraza de Thomas, the a la carte restaurant, offers original plates for guests, while during the night they can have a drink in an open air terrace enjoying live piano music. The hotel also has a spa center, an outdoor pool, and a pool bar.
Hotel Reina Isabel is a four-star hotel located near the Las Canteras beach with the city's best shopping nearby. Recently renovated, all of the rooms at Reina Isabel are spacious and comfortable, ranging from a single room to a sea view suite with a spa. Every room offers a balcony, air conditioning, free Wi-Fi, mini-bar, television and hair dryer. The hotel spa includes a sauna, aquatic massage bed and Dead Sea flotation pool. With two restaurants, a full-service bar and a large exercise room, the Reina Isabel offers travelers everything they need to enjoy a warm winter month in Las Palmas.
Things to Do:
Besides the beach, there's plenty of history and culture to enjoy in Las Palmas de Gran Canaria. To enjoy the surprisingly warm January weather and sunshine, stay outside by visiting the Caldera de Bandama, the Gran Canaria's magic cauldron. The 1km-wide Caldera is a volcanic cone that feels like another world and makes for a great hike. For an easier trek but more time outdoors, Doramas Park—formerly a zoo—has great water features, play areas for children, shows on Sundays and an oriental-themed park.
Source: www.holiday-weather.com