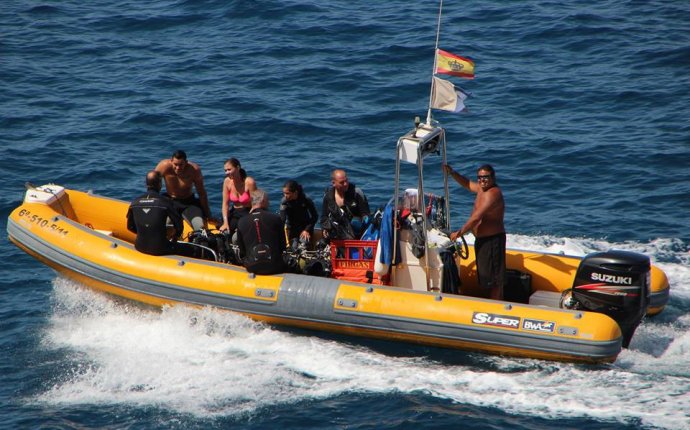 Top Diving GRAN CANARIA
Year-round sun, warm, clear water and dramatic underwater volcanic seascapes draw divers to the Canary Islands. Sometimes called "The Fortunate Islands" due to the subtropical climate and sandy beaches, the islands of this Spanish archipelago lie at the eastern edge of the Atlantic Ocean, off the northwest coast of Africa. The Canaries, as they're also known, were an important port-of-call for Spanish galleons taking advantage of the trade winds on their way to the Americas.
The seven largest islands – Tenerife, Fuerteventura, Gran Canaria, Lanzarote, La Palma, La Gomera and El Hierro – are premier European tourist destinations and attract more than 12 million visitors a year. Those who come can pick their spot and choose from bustling cities with great nightlife or sleepy little villages where stress just rolls away.
And that's before you even get to the diving. Visibility of more than 30 metres/100 feet is normal, and water temperatures never drop much below 17-18° C/63-64° F, making it easy to enjoy the unique biodiversity. Divers will encounter both Atlantic and Mediterranean species, and some endemic to the islands themselves.
Great Dives
La Catedral – This site in Gran Canaria is considered one of the top dives in the region due to the unusual and impressive volcanic formations. Off the coast of La Isleta, just north of Las Palmas, is a morass of lava tubes, caves, arches and crevices. You'll need a boat and local knowledge to enjoy the best dive on this site.
The Arona - For shipwreck lovers, Las Palmas in Gran Canaria has a variety of wrecks; some say these are among the best in the world. The Arona is basically in one piece, lying on its side in 40 metres/130 feet of water. It's well known for the schools of barracuda and other pelagics that patrol her hulk.
La Restinga - There is a marine reserve on El Hierro where turtles, tuna and dolphins abound; even whale sharks put in an occasional appearance. As recently as 2011, an underwater volcano erupted here, and already marine life is moving back in. El Hierro is the smallest of the Canary Islands and is a bit remote – you have to fly to Tenerife and get a ferry – but the diving makes up for the effort.
La Burrera - Just off the small island of La Graciosa to the north of Lanzarote lies this site highlighted by a dramatic underwater seascape including pinnacles, columns and large rocky ledges. Marine life is protected here and thrives.
Cuevo Del Palm Mar – Located ten minutes from Los Cristianos and Las Galletas in Tenerife, is a thrill for advanced and deep divers. Crystal clear water gives incredible visibility to view large rocks, a cave, lobsters, Atlantic barracudas and several species of moray eels. Though gentle and inquisitive, some of these toothy eels are quite ferocious looking.
Want to know more? Visit ScubaEarth® for further information on thousands of dive sites, marine species, destination essentials and more.
Dive Summary
Visibility – Excellent, often exceeds 30 metres/100 feet, depending on local conditions.
Water Temperature – The Canary Islands are bathed by the Gulf Stream, which regulates the water temperature, keeping it between 17-18° C/63-64° F in winter and around 23°C/73°F in summer. Typically, 5mm wet suits in summer and 7mm suits in winter keep divers comfortable.
Weather – Mainly mild winters and warm summers. Year-round warm, sunny weather with average temperatures varying from 17°C in the winter to 24°C in the summer.
Featured Creatures - Fish species include sharks, rays, bream, jacks, grunts, scorpionfish, triggerfish, groupers, gobies and blennies. Invertebrates include sponges, sea fans, jellyfish, anemones, crabs, sea urchins and more.
Recommended Training – Take the PADI Deep Diver and PADI Wreck Diver courses for diving on the deeper wrecks. The AWARE – Fish Identification specialty course is also a good choice to help you identify the many unique species.
Travel Info
Note - Travel to any destination may be adversely affected by conditions including (but not limited) to security, entry and exit requirements, health conditions, local laws and culture, natural disasters and climate. Regardless of your destination, check your local travel advisory board or department for travel advice about that location when planning your trip and again shortly before you leave.
Language - Spanish, with English, French and German spoken in tourist areas.
Currency - Euro. Credit cards are accepted in hotels and tourist-oriented businesses.
Major Airports - Tenerife, Lanzarote, Gran Canaria and La Palma
Electricity and Internet - 220 volts 50hz; European Type C or type E/F two-pin
Topside Attractions - Take a hike up the side of a volcano in a national park, enjoy the buzz of the big busy tourist towns or relax on a beach enjoying the best climate in the world.
Source: www.padi.com