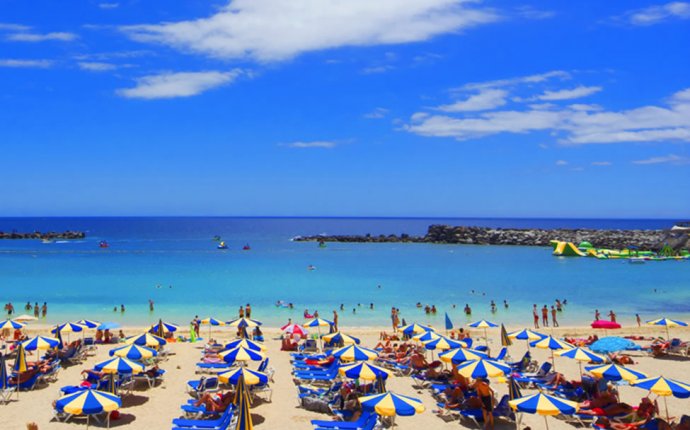 Gran Canaria Winter Weather
Temperatures in the Canary Islands are reasonably reliable with days similar to summer in the UK (although chilly winds can be a problem and unheated pools can be too cold for swimming). Tenerife and Gran Canaria are the warmest islands with average daily temperatures hitting the low 70s, about six hours of sun a day and only six rainy days a month.
Lanzarote and Fuerteventura can be distinctly cooler - mid-60s - and are prone to strong winds. Northern coasts tend to be wetter than sheltered southern resorts. Sea temperatures around the Canaries are never very high because of cold Atlantic currents.
Guaranteed sunshine and no rain make Egypt the nearest destination for reliable winter sun. If you don't mind being away from the sea, the dry air and warm sunny weather of Aswan in the south is worth considering - the average February high is a glorious 78F. The evenings are pleasantly cool and humidity is extremely low.
But if you are after serious heat, The Gambia has nine or more hours a day of hot sunshine (with temperatures peaking at 90F in February and even higher in March) and it hardly ever rains. Like the waters around the Canaries, however, the sea is relatively cool.
Temperatures in Cyprus are in the low 60s in February and March, with 10 rainy days a month - but there are still six to seven hours of sunshine a day. This is a good bet for an early spring break because the climate warms up quickly in March.
If time and budget allow, the place for gloriously consistent winter weather is the Caribbean, with sunshine for nine or more hours a day and temperatures in the mid-80s (although it gets hotter and wetter as you go south). Generally speaking, evenings are warm, while low humidity and sea breezes prevent the weather becoming uncomfortably hot.
February is the driest and most reliable month (even though Barbados averages eight days of rainfall, it usually falls in short showers late in the day). This is the best place for swimming in the sea, too, with water temperatures reaching a comfortable 80F around the southern islands.
Less chic but with an average of seven to nine hours of sunshine a day is Florida, where the weather is akin to a warm summer's day in the UK, with temperatures usually peaking in the mid-70s and the chance of occasional heavy showers (the area is prone to thunderstorms). Evenings are cool and sea temperatures are usually in the mid-70s.
Until March, the climate of the Maldives is superb with minimal rain and eight hours of sunshine a day, ensuring the temperature reaches the mid-80s, but not much higher (the only downside is humidity, which can be a problem at night, so air conditioning is worth paying extra for). The shallow sea water also hovers in the 80s - and winter is a cheap time to visit the Maldives.
Minimal rainfall and temperatures in the high 80s also make Goa a good option for winter sun. Sea breezes keep the beaches fanned and humidity is low. Best to go before March, as seas start to get rough towards early spring.
February is one of the driest months in Thailand, with temperatures rising to the high 80s - the sea is almost as warm. Choose your resort carefully as the north-east monsoon can cause heavy rain on the east coast, while resorts such as Phuket on the west coast stay drier. That said, you'll get more than eight hours of sun a day wherever you are and early-morning humidity should disperse by midday.
The Seychelles are humid (nearly 80 per cent on average) - and rainy at this time of year. Port Victoria has as many as 15 days of rain a month in January, February and March, with a monthly total of up to 15 inches (compared to London's average of one to two inches).
Despite seven to nine hours of sunshine a day and temperatures in the low 90s, Mauritius is also wet and humid until May - especially the south and south-east coast (eight inches of rain a month) and until April tropical cyclones can hit the island.
Source: www.telegraph.co.uk