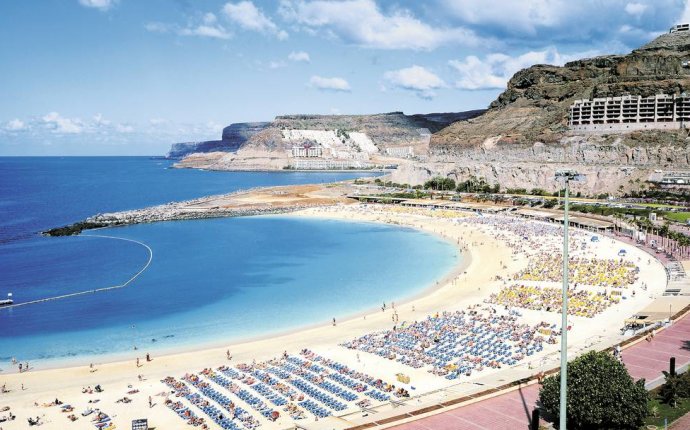 Christmas Holidays in Gran Canaria
A top sunshine destination in the summer, Gran Canaria also boasts plenty of sunshine throughout winter. There is a whopping six hours of sunshine a day to enjoy, and with easyJet holidays you can make the most of your winter trip to Grand Canaria by visiting a nightclub on a holiday to Playa Del Ingles, or relax on a secluded beach by taking a holiday to Playa Taurito.
Climate in Gran Canaria
Winter holidays to Gran Canaria offer just as much to see and do as peak season holidays. Despite it being the cold season, temperatures from December to April still averages around 22C with the water temperature rarely falling below 18C. These comfortable conditions mean Gran Canaria winter holidays offer a quiet sunny escape from the bleak UK winter time.
What to do in Gran Canaria
The warm winter temperature provides excellent conditions for exploring the varied landscapes that make up the island. On winter holidays to Gran Canaria you can explore the long sandy beaches on the south coast which are perfect for a peaceful stroll or swimming and relaxing without the busy peak season crowds getting in the way. Boat and fishing trips can be arranged as well as surfing and diving excursions.
Gran Canaria winter holidays offer you some spectacular landscapes to discover. The milder weather provides a great climate to explore not only the coastal areas but also the diverse scenery at the centre of the island. Winter holidays in Gran Canaria mean you can catch a tan whilst admiring the snow-topped mountainous peaks in the middle of the island.
There's something for everyone with winter holidays to Gran Canaria. Families will enjoy the south of the island as it provides the best tourist attractions such as water parks, zoos, shopping centres and restaurants. There are also a selection of bars and clubs for night owls and a great range of museums to visit on Gran Canaria holidays including the interesting Science and Technology museum. A holiday to Las Palmas will ensure you are in the ideal location for this museum.
If you want to get away from the hustle and bustle of city life, winter holidays in Gran Canaria offer lots of small villages by the coast that offer plenty of cozy restaurants and cafes with views of the gorgeous quiet bays and beaches. There is also a huge network of rural footpaths that cover 300km which is the perfect way to soak up the countryside, warm weather and great views.
Christmas in Gran Canaria
Gran Canaria winter holidays allow you to experience a Christmas with a difference. Enjoy traditional festive food on the Spanish Christmas Eve or Noche Buena (The Good Night) such as *turron*, chocolate covered sweets flavoured with honey and almonds. Christmas is seen as a celebration and after the carol singing people will have fiestas on with champagne, food and music to celebrate.
Book with easyJet holidays now
To join the fiesta, relax on quiet beaches, take in the extraordinary views or just enjoy a bit of winter sun book a cheap holiday to Gran Canaria with easyJet holidays today where you can get your Gran Canaria hotels and flights in one amazing affordable deal!
Source: www.easyjet.com