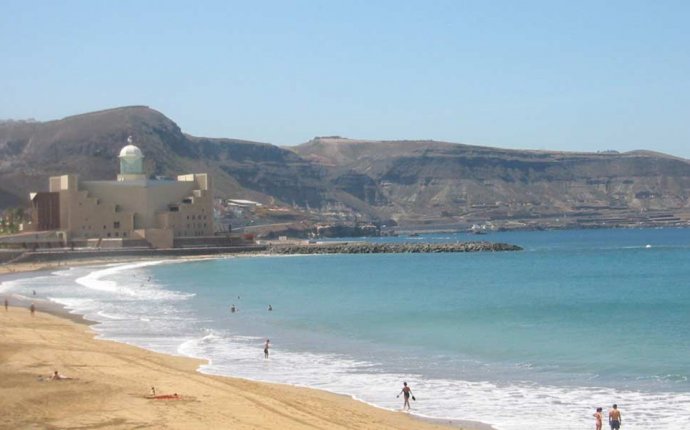 5 Star Hotels in Gran Canaria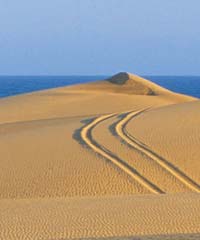 Gran Canaria is alive with varied natural beauty, from the stunning sand dunes of Maspalomas, the volcanic mountainous interior to the world famous fabulous golden sand beaches.
To explore, you don't have to stick to the roads. A well-signposted network of tracks and trails will lead you to nature reserves on foot or by bicycle. With more than twenty locations with excellent conditions for surfing, windsurfing and kite-surfing Gran Canaria is without doubt a perfect destination for the watersports enthusiast. Scuba divers will be amazed by the beauty of marine life; great ship wrecks; lots of sheltered shores; night dives; boat dives and snorkeling.
If golf is your game you won't be disappointed, with ten magnificent courses, all developed by top designers, the island is a golfer's paradise, whether you are a beginner or a budding master. Canaries cuisine is excellent and local wine well worth a try.
We have avoided the busiest parts of this lovely island in favour of Maspalomas and Arguineguin in the south and Las Palmas and Arucas in the north. It's an island of sudden changes of landscape from great beaches and sand dunes to rich agriculture, harsh mountains to tranquil village squares.
Peace or excitement are here too. Parts of Gran Canaria have been declared a Biosphere Reserve by UNESCO recognising its environmental importance.
The excellent support and services of our local representatives and handling agent
Rural Gran Canaria
Gran Canaria is a lovely island with warm friendly people and lush countryside. Unfortunately many holidaymakers don't see this side of the island as most hotels are built close together by the sea. Our more independent travellers may find La Hacienda del Buen Suceso in Arucas more appealing.
Other areas we offer
We have a good range of resorts on offer from popular Maspalomas to Arguineguin in the south and Las Palmas the city with beaches. Please refer to our resorts page for much more information.
Getting around on holiday in Gran Canaria
For shorter trips in the city or the resorts taxis are probably the easiest, though the bus service is also very efficient too. But for exploring further afield a hire car is a definite asset, with a good map and plenty of time enjoy some of the stunning scenery this island has to offer. But if going into the hills take your time as some of the roads are very bendy and the views very distracting.
Local best buys include: Rum from Arucas, leather goods and genuine local arts and crafts.
What to do on your holidays in Gran Canaria
Nightlife is very varied in Gran Canaria holiday resorts and in the city and the usual clubs and discos can be expected. Cultural and historical attractions are plentiful, as are water and land sports.
The island is both a nature lover and sports lovers' paradise
Gran Canaria really does have so much on offer that it really would be impossible to list it all. In addition to lots of sightseeing options there are plenty of activities to choose from. We list some of them here.
Golf in Gran Canaria
With such a good climate you can play golf in Gran Canaria 365 day a year! The island has a long history of golf, the first course, later moved, was opened in Las Palmas in 1891.
There are now nine courses, 5 in the south of the island and 4 in the north.
In the North - Real Club de Golf de Las Palmas, El Cortijo Club de Campo, Oasis Golf and Anfi Tauro Golf.
In the South - Maspalomas Golf, Salobre Golf and Resort, Meloneras golf, Las Plameras Golf and the Anfi Tauro 9 hole Pitch and Putt.
We mention some of them here but if you would like detail on the others do let us know.
Real Club de Golf de Las Palmas
This is the oldest golf club on the island though it has only been in its current location on the plains of Bandama since 1956. Located near an extinct volcano a few kilometres outside Las Palmas, it offers lovely views of the deep ravines of the area.
Designed by Mackenzie Ross, it is a par 71, 18 hole course with the expected practice and other golf club facilities, plus tennis and a horse riding area, even a swimming pool!
El Cortijo Club de Campo
Host to several international championships this course is only 6kms from the capital. It has a mix of difficulty with six quick greens and up to six tees per hole, the six lakes and very old palms add visual appeal as well as challenge. Designed by Blake Stirling and Marco Martin its 18 holes play to par 72. The usual facilities apply.
Maspalomas Golf
Surrounded by the Maspalomas Dunes Nature Reserve in the popular and sunny south of the island, these dunes were an influence on the design of this course. It is very long and flat, with wide fairways and the sea breezes are welcome on hot summer days. Designed by Mackenzie Ross and host to several international events this is an 18 hole, par 73, course again with the expected golf club facilities.
Source: www.prestigeholidays.co.uk