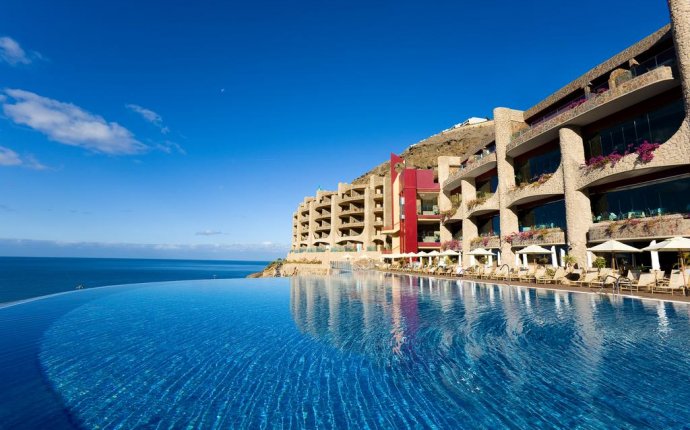 Spa Hotel Gran Canaria
A wellness oasis in Gran Canaria - the Seaside Grand Hotel Residencia spa
Wellness for body, mind and spirit is an inseparable part of your luxury holiday in Gran Canaria. Our spa and wellness centre, which was fully renovated and extended in 2012, offers the ideal surroundings for complete relaxation – a real feel-good oasis. Let yourself be soothed by the calm and the pleasant atmosphere of the spa.
Wellness for body, mind and spirit
In our wellness oasis in Gran Canaria a salt water pool heated to 30 degrees, a steam bath sauna and salt cave all invite you to lie back and chill. Our hotel has seven stylishly decorated treatment rooms, while the inner area with its harmonious design is a place of tranquillity and total relaxation. And after a session in the sauna or steam bath your feel-good programme is rounded off by a cold water plunge pool, ice fountains, multi-sensory showers and quiet zones.
The extensive and varied wellness facilities of our luxury hotel in Gran Canaria are an invitation to unwind and enjoy. At our spa in Gran Canaria you will feel the stresses of everyday life lifted from you, leaving you deeply relaxed and full of inner harmony.
Natura Bissé at Seaside Grand Hotel Residencia
In the wellness treatments available at our spa we only use Natura Bissé products. Whether you opt for a therapeutic massage or a beauty treatment – with Natura Bissé products you will experience wellness and revitalisation which are more than skin deep. Ever since 1979 Natura Bissé has been developing products for the care of face and body which set new benchmarks. Innovation and a stream of new developments over the years have made Natura Bissé the first choice for beauty treatments. Natura Bissé is also the preferred beauty care choice of the stars with, for example, Natura Bissé products being provided to the participants in the 2007 Oscar awards.
Cancellations
Please note that cancelling a treatment session must be implemented at least 8 hours before the appointment. Otherwise the cost of the treatment will be charged to your room bill.
Vouchers
Source: www.grand-hotel-residencia.co.uk