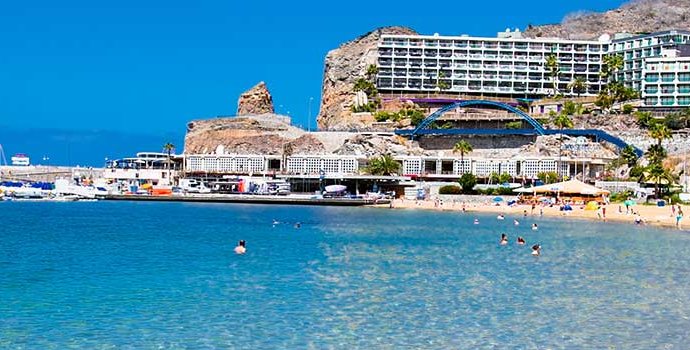 Nightlife in Puerto Rico Gran Canaria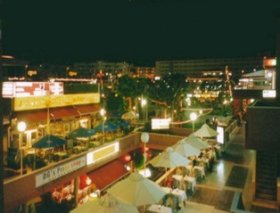 Gran Canaria is uniquely placed in the tourism industry because of it's attitude to the individual tourist. Whatever you are looking for in the way of nightlife, you will find it here, and more than that Gran Canaria does nightlife with it's own, unique style and efficiency, so you can get the most, out of the nightlife and from your holiday. Not just where you choose to top up your suntan it also includes how you choose to spend your evenings, with it's large variety of nightlife, which includes, bars, nightclubs, restaurants and a unique mixture of other entertainments.
You can drink all day in Gran Canaria, from breakfast, (Yummmmm! Fried eggs and a pint), so don't start too early or you might not make it through the night. nightlife, means just that. You can usually find something open at all hours of the night, right through until the morning. Most bars are open till 2am and the discos and nightclubs till 3am while many are open even later. Some of the bars and nightclubs cater to a niche market so it is wise to check before trying to enter some bars to avoid potentially embarrassing moments (this can even mean the language that is predominantly spoken or the style of food that is offered). This applies also to the general atmosphere and the type of crowd that you are likely to find in a particular venue.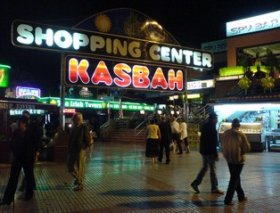 Just as an example the nightlife and entertainment found in Puerto Rico is more general and appreciated by a more family audience. The nightlife and entertainment offered in Puerto Rico is also predominantly English. Maspalomas nightlife is far more international where San Agustin nightlife caters to a mainly Scandinavian crowd. Although the Yupi shopping centre does also have a really good Greek restaurant, if you fancy eating something a little different. For more detailed information on the nightlife offered by Gran Canaria, includng, many of the bars and nightclubs, check out the different nightlife sections on the website, you will find something to suit you.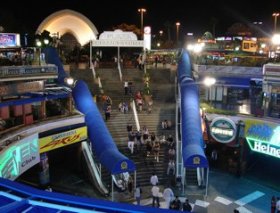 Because of the variety of nightlife, most tourists will find something in Maspalomas or Playa del Ingles although with the nightlife expanding as it is, the options open to you, are increasing all the time. Whether you want to taste some local culture or you want nightlife in your own language you will find it here, although Puerto Rico has a large concentration of mainly British nightlife including, bars and nightclubs. No matter what nightlife you choose, you will find that generally, it costs less to have a really good evening here than it would at home.
Most of the nightlife entertainment begins between 9pm and 10pm although the resorts tend to get busier around midnight. The majority of the nightlife is located or centred around the main shopping centres in all the resorts, but if you don't find anything you like at your first choice, it is easy to move onto another shopping centre. A taxi is likely to cost around 3.50 euros if you are travelling locally.
As well as the usual holiday nightlife, including discos, nightclubs and bars you will also find The Yumbo Centre and the Cita Centre catering to a mainly gay and gay friendly audience (this includes bars that will not allow women to enter), Puerto Rico does not have any exclusively gay bars by the way.
Other nightlife offered by Gran Canaria, also includes a few casinos and bingo halls. Should you find that you have time to get bored with Playa del Ingles and Maspalomas or Puerto Rico then why not check out the nightlife in Las Palmas, the capital city of Gran Canaria, which barely takes time to breathe let alone sleep.
Source: www.justgrancanaria.com