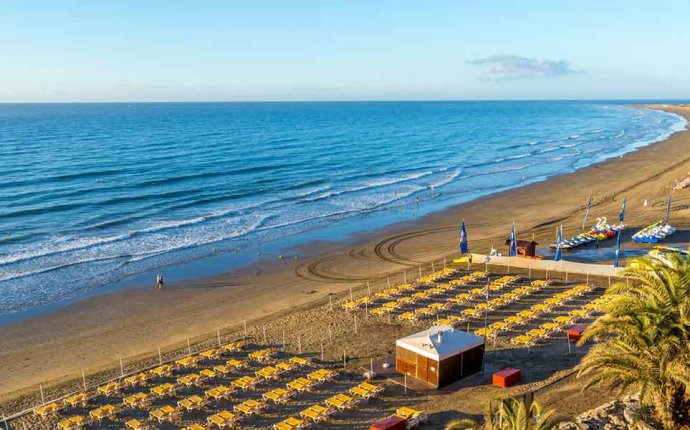 Gran Canaria Playa del Ingles
Playa del Inglés (the English beach) offers sand by day and pubs and clubs galore by night. The biggest holiday complex in all of Spain, together with Maspalomas and San Agustín, Playa del Inglés is a fun-and-sun resort of high-rise hotels, shopping malls and fast-food restaurants. Created in the 1960s on, what was up to that point, barren land - it is now a tourist hyper-centre and famous throughout Europe.
In between Indian bazaars, with all sorts of goods from rags to radios, an endless amount of restaurants compete for your attention with international dishes, traditional breakfasts from half a dozen countries and anything else they can think of. Playa del Inglés is also the place where you find several huge commercial centres, the biggest of which are the Yumbo Centrum (in Avenida de España – next to the Tourism Office) and Kasbah (in Plaza del Teide) with all kinds of boutiques and shops.
Located in the heart of Playa del Inglés, the 4-star Hotel Neptuno is a perfect place to stay for guests wanting to be close to the vibrant and exciting centre. Reserve a room here and not only will you be a stone's throw from all the action, but you will enjoy sumptuous accommodation, an inviting swimming pool with no kids (this is an adults only hotel) and a wellness centre where you can pamper yourself.
For those of you who like a little more peace and quiet, Spain-Grancanaria recommends the 4-star Vital Suites Hotel & Spa, which is located a little further away from the hustle and bustle. Unwind in the spa facilities, chill out by the pool and enjoy the top class guest rooms. And golf fans will love being so close to the Maspalomas Golf Club which neighbours this hotel and offers discounts on green fees for hotel guests.
If you are looking for monuments or other cultural sights, this is not the place to be. Daylight hours can be spent on the beach or shopping but come nightfall the scenery changes completely when the bubbling family atmosphere disappears as discos and nightclubs swing into action until dawn. There are a wide range of venues, including plenty of English, German, Dutch and Scandinavian restaurants and bars.
Yet, for more spiritual needs, there is the Templo Ecuménico de San Salvador, a church providing ecumenical services in three different languages.
Should you get tired of the beach, there is an attractive pedestrian promenade, the Paseo Costa Canaria, lined with lush tropical flora and luxurious villas. It runs all along the beach linking the Playa de las Burras in the east to where the Maspalomas dunes begin.
Source: www.spain-grancanaria.com