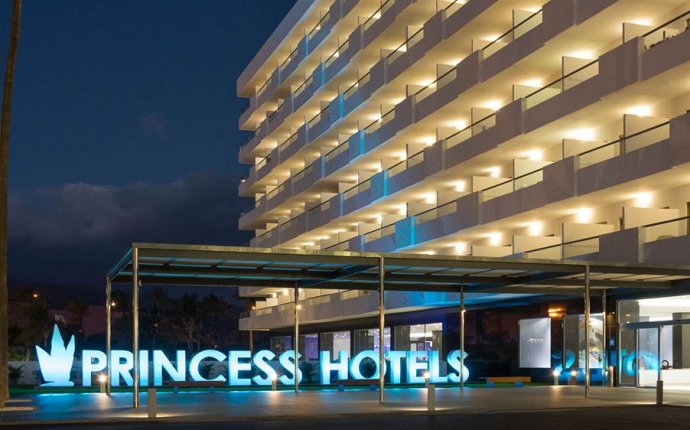 Gran Canaria Princess
7 / 10
Sentido Gran Canaria Princess is more Playa del Inglés resort than Playa del Inglés beach, yet seems removed from the urban sprawl. Following the island's major GC-1 motorway from the airport, you'll reach the hotel in just over 20 minutes. It's a 15-minute downhill walk to the beach.
Style & character
8 / 10
A pristine exterior practically glows under the sunlight. In the reception, the orchids in giant vases and the colourful leather sofas soften the impact of the minimalist design. The hotel's grounds are the focal point, with the basement restaurant adding a terrace and the spa becoming more outdoor than indoor.
Service & facilities
The glorious weather during my stay saw guests preferring the Balinese beds, external massage tables and hot tubs at the spa to the interior sauna and steam room. There was just enough room for my sun lounger in the area surrounding two popular pools. There is a gym and tennis court. The entertainment programme is organised on a fortnightly basis to avoid guests seeing the same performance twice. Artists range from musicians Los Gumbo Blues Duo to shows such as The Acrobattys. Daytime activities include pilates, yoga, and zumba.
Bar
Fitness centre
Laundry
Parking
Pool
Restaurant
Room service
Sauna
Spa
Steam room/hammam
Wi-Fi
Rooms
In terms of dimensions, the 430 double rooms are identical. A queen-sized bed and sofa bed fits three, which might prove useful for a small family with one child over 16. The white walls are as brilliant as the hotel's exterior, but the purple of the bed covering and prints add a touch of variety.
We offer a price guarantee on every hotel booking
Your passport to a better trip
Food & drink
The basement Princess restaurant with chequered floors, lilac walls, and chandeliers offers buffet breakfast, lunch, and dinner, with Cruzcampo beer from Andalucia and Finca Los Rodeos red, white, and rosé wine freely available for all-inclusive guests. Cold cuts included mortadela with olives, hot meats turkey tenderloin, and there were accompaniments such as patatas panaderas with the chef employing a liberal dash of paprika. Desserts ranged from papaya grown on the island and birthday-party-style jelly, to rice pudding.
There are self-service snacks at El Bohío along with cocktails with the biggest selection the rum-based ones, including daiquiri, mojito, and piña colada. This á-la-carte restaurant also hosts special culinary events such as a Canarian tapas and pinchos gastronomic route. The blue Salón Princess bar is a venue to enjoy a drink watching sporting events.
Value for money
9 / 10
Half-board rates start at €100 (£80) per couple per night in summer, increasing to up to €345 (£273) in winter. The all-inclusive option is only available in summer, costing between €150 (£120) and €272 (£215).
Source: www.telegraph.co.uk