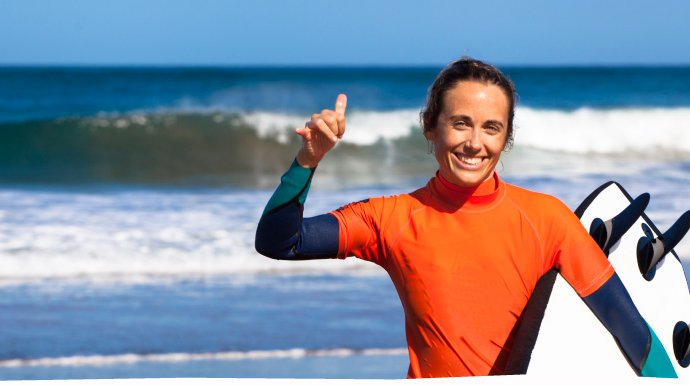 Gran Canaria Surf School
What is the difference between the Surf course and the Surf Safari?
The surf courses are held in the south of Gran Canaria. However, if there are no
waves in the south we have to make a surf safari, where we travel farther along the island to search for the best conditions.
When are the courses?
The courses normally start from Monday till Saturday with the pickups at the hotels between 9:00 and 9:30. The times can be different in special cases. (Depending on the Weather Condition)
How long does the course take?
The course takes around 6 hours from the moment that we pick you up until the moment that we bring you back to the hotel.
How many people are on the courses normally?
We will never have more than 8 students in 1 class, and it's often less. Often you will find 2 instructors to cover our different levels with only very small groups.
Are private courses possible?
Private courses are possible. We will never have more than 3 people in 1 class. With a private course you will get all the attention that you are looking for.
My child is going to surf and I just want to watch is that possible?
A transfer with our surf school is possible if there is a place in the bus. If there is no place available you can always follow the school bus with a rented car. We cannot tell you in advance to which spot we are going because we have to check the weather forecast day by day.
How many surf lessons do you recommend?
Surfing is a sport that requires a lot of practice. The more you do it, the better you get.
How old are the people on the course and what are they like?
Our course members are normally people from the age of children till the age of late 60s.These are people from all over the world. The minimum age for a normal surf course is 8 years old. With a private course it is possible that the child is younger.
I have never surfed before. Is Pro Surfing Company the right surf school for me?
We positively encourage absolute beginners to come on our courses. Most of our students never surfed before. You certainly won't be a beginner when you leave.
I have surfed for quite a few years. Can you teach me anything?
Absolutely, we can. We have a super wide range of abilities on our various courses and have coached high level surfers, both male and female. We know that there is so much to be gained from our Intermediate and Advanced courses.
Is it possible to surf during the winter? Is it not to cold?
The waters warm all through the year especially compared with Europe and the lowest we go is around 18C (64F) in February to 26C (79F) in October. If you have your own suit
then please check with us if it's the right type and thickness to bring and of course we are happy for you to use our extensive range of 3/2 wet suits.
What do the classes include?
The Lessons include a friendly qualified surf instructor.
We also provide all the equipment, such as the wetsuits, surfboards, the leashes, wax, water and a snack.
We also pick you up at your hotel and bring you back after the class.
Do I need to bring my own board?
Probably not, as we have a wide range of high quality boards here, but do tell us what you
want to bring and of course it's fun to be coached on the board you normally ride.
In what languages are the classes?
Mostly in English but we have teachers that can teach in German and Dutch and if English is your second language we make sure all our instructions are clear and easy to understand. A lot of surf teaching is very visual so you're not to worry if you have weak English language skills.
Is it risky to practice surf in Gran Canaria?
Source: www.okgrancanaria.com