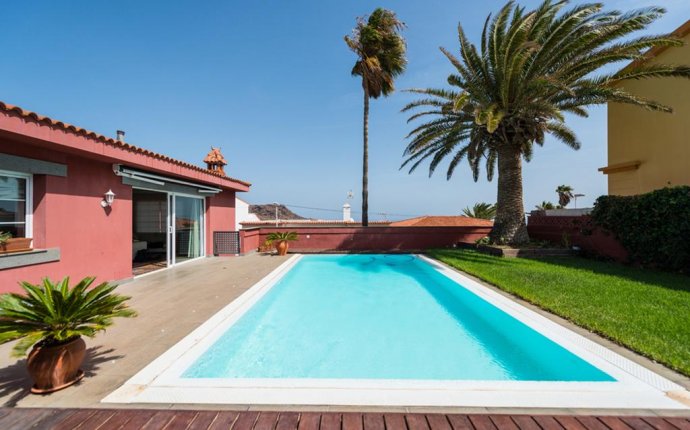 Gran Canaria villas with Pools
Gran Canaria, the third largest of the Canary Islands, is a breathtaking destination with a superb blend of scenic beauty and action-packed nightlife. Views of seemingly endless silky sand dunes roll across the island like waves frozen in time, spilling off into the frothy blue of the beautiful Atlantic Ocean. Bizarre geological structures crop up from the volcanic hilltop; sparkling emerald mountains jut up and perch upon mini-peninsulas. Apart from natural splendour, it is a prime beach destination attracting holidaymakers from all over Europe and across the globe to stay in villas in Gran Canaria by the sea, in one of the hottest party destinations west of Ibiza.
Get active on Gran Canaria's volcanic landscape
There are plenty of things to get stuck into with the whole family while staying in a villa or holiday home here. Start the day out on Las Cantaras, relaxing idly on the soft, golden sand. Pick up a game of beach volleyball or tennis, or jump in and swim or surf in the delightfully refreshing Atlantic waters. If you're looking to explore the stunning landscape during your stay in Gran Canaria apartments, then visit Roque Nublo, a volcanic rock which has become an iconic feature of the island. The rock's name literally translates as "Cloud Rock" due to the fact it often disappears into the mist of the Gran Canarian sky. The area isn't particularly restricted; you could even dare climb the rock if you so wished, so long as you have the appropriate climbing gear. The Maspalomas Sand Dunes are another natural reserve worth seeing, though be well aware that this is also a very popular spot for nude sun bathing.
Discover the nightlife on Gran Canaria
After dark head to Playa Las Cantaras, which comes to life with its techno and dancing, with after-hours extending to midday the next day. Recover from the party in comfortable private Gran Canaria apartments, just to start again the next evening. Another great destination for tourists looking for a vibrant nightlife is Playa Del Inglés, the most popular resort on the island - though don't expect this tourist hotspot to be as anglicised as other Spanish islands such as Tenerife. With easy access to the beaches of Maspalomnas, this region of Gran Canaria is the perfect location for your holiday rental property. Provided you're in a satisfactory condition the next day, take advantage of the bright daylight hours to explore this island's exquisite treasures, which include historical attractions, secluded beaches, and amazing geological formations.
Source: www.casamundo.co.uk