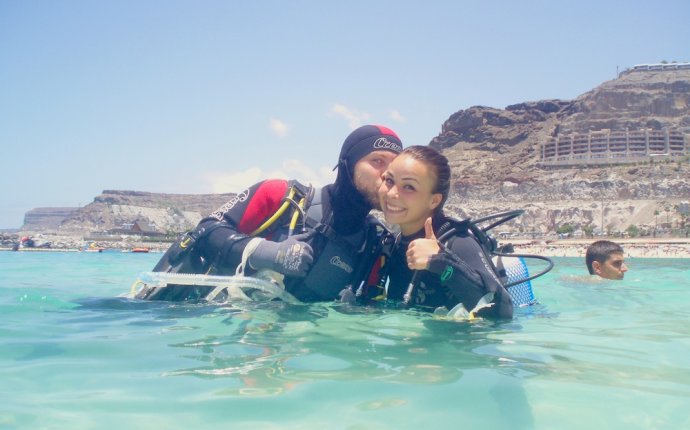 Scuba Gran Canaria
You want an unforgettable diving in Gran Canaria experience? As a PADI 5-star IDC center Scuba Sur Gran Canaria is fully capable of delivering on that promise. Scuba Sur Gran Canaria is the most southern dive center in Gran Canaria. Thanks to our location we can dive with warm temperatures and clear water for a fantastic diving experience. Ready to go diving in Gran Canaria?
Dive sites in Gran Canaria
Gran Canaria is one of the best places in Europe to find extraordinary dive sites. A wide variety of dive sites: wrecks, rock dives, wall dives, shore diving, diving from boats. Another thing to be proud of is presence of lots of Marine life like Turtles, Angel Sharks, Rays, Morays, Cuttlefish, Octopus, Trigger fish, Trumpet fish and a lot of other life to explore. Want to explore some of our dive sites in Gran Canaria? Check out Mogán Wrecks, Pasito Blanco or The Bleu Bird and many many others!Ready to join, just book your dives online or visit us at the shop upon your arrival. Just make sure not to forget your diving license. We plan the dives together in order to guarantee you the best diving experience.
Diving courses in Gran Canaria
Wether you are just getting the hang of diving, or are already an experienced diver Scuba Sur Gran Canaria has a diving course for you. Never have been diving before? Our Discover Scuba Diving course will change that. Just be aware that once you've gone underwater you'll be in for more! And we'll be ready for you want you want to go one step further with our PADI Open Water Diver. Already an experienced diver and need a level up? Take one of our speciality courses with our amazing team. If you are really up for a challenge we'd like to learn you how to GoPro. Since Scuba Sur Gran Canaria is a 5 star IDC we have the ability to teach you to become a diving instructor yourself.
Source: scubasur.net